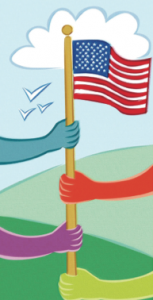 [vimeo]http://vimeo.com/30145871[/vimeo]
Video by Tiffany Martinez
Article by Teewhy Dojutelegan
Cameron University students, staff and faculty gathered around the flagpole in front of the Administration Building to pray on Sept. 28.
Organized by the members of the Baptist Collegiate Ministries (BCM), the event, "See You at the Pole," is a nationally recognized, student-initiated, student organized and student-led event.
Danny Toombs is the Director of the BCM, which is a Christian organization whose members come together to worship God, study the Bible and collectively seek spiritual growth.
Although predominantly made up of Baptists, the BCM is open to other Christians of different denominations.
According to the "See You At The Pole" website, www.syatp.com, the movement started in 1990 when a small group of teenagers in Burleson, Texas, had a vision during a "DiscipleNow" weekend that they should go to three different schools to pray for their friends, schools and leaders at the school flagpoles.
The website also stated that the teens shared their vision with over 20,000 attendees at a teenage rally in Dallas and by Sept. 12, 1999, about 45,000 students met at the flagpoles of over 1,200 schools in four states.
The event has continued to attract participants annually and at present, it has grown to great proportions. Syatp.com reported that each year over 3 million students from around the world, including the countries of Canada, Ecuador, Japan, Korea, Kenya, Nigeria and predominantly Islamic nations such as Turkey, pray at the flagpoles of their schools and colleges.
At Cameron, other religious organizations were invited to help organize the event this year. The Cameron Campus Ministries, (CCM), Fellowship of Christian Athletes, (FCA) and the Sigma Alpha Omega sorority (SAO) all had members that read bible verses and prayed.
Rebekah Bowers, a senior Biology major, believes that prayer brings change.
"I believe prayer is the way change happens," Bowers said. "Prayer is powerful."
The event started with a worship song called, "Ruin Me" by Jeff Johnson and was led by the BCM's Josh Wall, a Health and Physical Education senior and by Biology senior Emake Ugiomoh.
Wall said that they picked that particular song because of its connection with the event.
"We picked a song that was associated with the event, which we could all associate with," he said. "It is a call for prayer."
Junior Business major Sharna Hossier, junior Elementary Education major Jordan Kauk and sophomore Lacy Reinke of the FCA read Bible scriptures while Alli Brown, also of the FCA, started the prayer session after which students were invited to pray individually.
Sean Watson, the Associate Director of the BCM, said that everyone needs prayer to make the right decisions.
"When we are able to pray for our country, our leaders, our faculty, staff and students, it puts in the perspective that we understand that these people need prayers to do what God wants them to do," he said.
Bowers said that people should be thankful they have an opportunity to pray without fear.
"I went to a country a few years ago that didn't [have the freedom to pray]," she said. "Then you have to pray in secret."
Toombs is certain that God has ultimate power over all things and he said that he believes in the power of prayer as a tool for changing people.
"Prayer changes people," he said. "God orchestrates people to change things."
The BCM is located behind the Cameron University Village apartments at 2614 S.W.E Ave. Bible study is open to everyone and starts at 8 p.m. on Mondays.