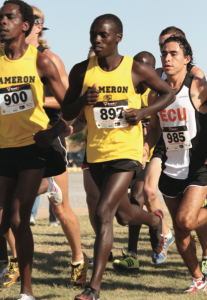 by Aaron Gill
Collegiate athletes strive to achieve many honors and for any athlete the biggest of those honors is the title, All-American.
There is a sense of nostalgia that comes with an award and for freshman Hillary Kirwa that sense of nostalgia has occurred twice this year when she received the Lonestar Conference Runner of the Week two weeks in a row.
Head Cross Country Coach Matt Aguero said that Kirwa was deserving of this title.
"Each school submits a runner each week and the conference office selects which runner is deserving of the title of Lonestar Conference Runner of the Week," Aguero said.
Coach Aguero is optimistic that Kirwa could possibly receive the title again this season.
"He won it after the first two weeks he ran and hopefully he will get it again," Aguero said.
The other teams in the conference are starting to put in some more runners, which will give Kirwa a little more competition in his search for a third title.
Coach Aguero is looking forward to seeing how Kirwa competes against some larger programs in bigger races.
"I think he will do well," Aguero said. "I'm excited to see because he has not run in a big race yet but he is a hard worker and as long as he can stay healthy I think he will perform well."
With the conference meet less than a month away, Aguero is ready to see how Kirwa runs.
"I think he is one of the top five runners in the conference," Aguero said.
Aguero is working hard to see that Kirwa has everything he needs to perform well, to keep him healthy and to help him possibly earn the title of All-American.
Coach Aguero said that a runner could make it to the national meet in order to become an All-American.
"Only two teams out of each region go and we have four conferences in our region," Aguero said. "Then they take the next two individuals unless you make the top five at the regional meet."
At the time of Kirwa's honor, he had posted the two fastest times in the conference for both the 6k and 8k races. Kirwa ran 17:54:00 in the Midwestern State University Mustang Stampede in early September. Kirwa not only set a new course record in the 6k but also set a new school record, shattering the previous record set by Julius Korir at 19:15.
Kirwa's second record was set at The Aggie Showdown on Sept. 10 where he ran the 8k in a time of 25:07:72.
The Aggies still have a few meets left this season in which Kirwa has the opportunity to make some noise and set some more records.
Kirwa will make his next appearance at 9:45 a.m. on Oct. 15, in Fayetteville, as the running Aggies get ready for the University of Arkansas Chili Pepper Festival.
For more information about Kirwa or any of the other Aggie runners, students may visit www.cameronaggies.com