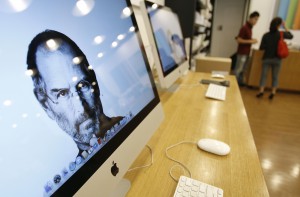 by Pamela Sampson, AP Business Writer
BANGKOK (AP) — From the titans of high technology to teenagers armed with iPads, millions of people around the world mourned digital-gadget genius Steve Jobs as a man whose wizardry transformed their lives in big ways and small.
Google, Sony, Samsung, Microsoft — corporate giants that have all been bruised in dustups with Jobs' baby, the technology prodigy Apple — put their rivalries aside Thursday to remember the man behind the iconic products that define his generation: iPod, the iPhone, the iPad.
"Thanks for showing that what you build can change the world," Facebook founder Mark Zuckerberg wrote.
Fans for whom the Apple brand became a near-religion grasped for comparisons to history's great innovators, as well as its celebrities, to honor the man they credit with putting 1,000 songs and the Internet in their pockets.
"I was so saddened. For me it was like Michael Jackson or Princess Diana — that magnitude," Stephen Jarjoura, 43, said at the flagship Apple store in Australia's biggest city, Sydney. He said Jobs' legacy would surpass that of even Albert Einstein and Thomas Edison.
"The digital age has lost its leading light, but Steve's innovation and creativity will inspire dreamers and thinkers for generations," Sony Corp. President and Chief Executive Howard Stringer said in a statement.
Few companies felt Apple's rise more than Japan's Sony, whose iconic Walkman transformed the music listening experience in the 1980s but which proved no match for Apple's iPod after it launched in 2001.
News of Jobs' death Wednesday, after years spent battling pancreatic cancer, spread swiftly in the online world, which was alight with expressions of sympathy. Zuckerberg's comments on Facebook were "liked" by more than 215,000 people within hours. The most heavily trending topics on Twitter in the hours after Jobs' death included the phrases "RIP Steve Jobs," "thankyousteve" and "iSad."
Internet search behemoth Google starkly listed Jobs' name and the years of his birth and death on its home page, with a link leading to a Jobs memorial on Apple's home page.
Thousands of celebrities and fans took to Facebook and Twitter to leave remembrances about him. Some noted that they learned about his death via one of his products, such as the iPhone.
Amalia Sari in Jakarta, Indonesia, said when her mother was diagnosed with terminal cancer just over a year ago, she decided to go on a monthlong pilgrimage to Mecca, Saudi Arabia. She bought an iPad for her mom to look at photos sent home and to keep in touch via Apple video conference.
"Without Steve Jobs and his crazy inventions, that kind of thing would never have been possible," she said, adding that after getting the first tweet about Job's death she logged off because she couldn't bear to hear more about it.
"I was really sobbing. It is great loss for me, and for the world as well," she said.
In China, one of Apple's fastest growing markets, Henry Men Youngfan said he was shocked by the news that his hero had died, remembering how he felt when he entered graduate school at Peking University's college of engineering.
"My teachers asked me what kind of person I wanted to be and I told them I wanted to be like Steve," Men said in Beijing.
Li Zilong, who was listening to his iPod in front of a Beijing Apple store, worried that Apple's innovation may have died along with its co-founder.
"Jobs was a legendary figure; every company needs a spiritual leader," said the 20-year-old university student. "Without Jobs, I don't know if Apple can give us more classic products, like the iPhone 4."
Competing companies that watched as Apple's sales — and its stock price — took off over the past decade posted messages of admiration.
"Steve Jobs was a great visionary and a respected competitor," said Mike Lazaridis and Jim Balsillie, co-CEOs of Blackberry-maker Research in Motion.
"For those of us lucky enough to get to work with Steve, it's been an insanely great honor. I will miss Steve immensely," Microsoft co-founder Bill Gates said.
The chief executive officer of Samsung, which is locked in an intensifying court battle with Apple over patent rights, called Steve Jobs an "innovative spirit" who will be remembered forever.
The South Korean electronics giant put aside its rivalry with Apple to praise Jobs as the man who "introduced numerous revolutionary changes to the information technology industry," G.S. Choi said in a statement.
Even the White House mourned.
President Barack Obama remembered Jobs as one of America's greatest innovators and said the world had lost a visionary. The president also said Jobs exemplified the spirit of American ingenuity.
In a tweet sent separately from his statement, Obama said, in his words, "There may be no greater tribute to Steve's success than the fact that much of the world learned of his passing on a device he invented."
Image: Portraits of the late Steve Jobs, co-founder of Apple Inc., illuminate computer monitors in an Apple retail store, in Taipei, Taiwan, Thursday, Oct. 6, 2011. Taiwanese rivals and partners of Apple Inc. lauded company founder Steve Jobs on Thursday, and news of his death dominated television coverage in the high-tech powerhouse. (AP Photo/Wally Santana)
Copyright 2011, The Associated Press