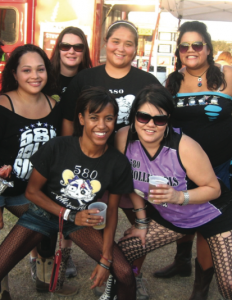 by Brenna Welch
The Day of the Living Derby match marked the end of the 580 Rollergirls' first season on Sunday, Oct. 9.
The Rollergirls have 38 skaters and continue to grow. The team members have been skating together for nearly a year and competing for about nine months at the Great Plains Coliseum in Lawton and at regional away bouts and matches.
However, the girls of the 580 Rollergirls do much more than just compete.
According to 31-year old Punky Bruised-Her, the Rollergirls have a clear mission for women and the community.
"These girls are amazing about helping each other out. It is sisterhood," Bruised-Her said.
During the previous year, the Rollergirls have made numerous charitable contributions to: Lawton Food Bank, Salvation Army, J. Roy Dunning Children's Shelter, Moonlight Walk Against Drugs, 2011 Fire Victims, Lawton Public Schools, MacArthur Drumline and Colorguard, Joplin and Chickasha Tornado Victims, Cure for Alzheimer's Walk, Ronald McDonald House in OKC, Rock, Stock, & Barrel Hunger Ride, Red Cross of Oklahoma and United Way.
"We're all about empowering women and making the community a better place," 33-year old Ova' Kill said.
In addition to various charitable contributions, the Rollergirls take part in community activities. The team had a booth at Fort Sill M.W.R. and Family's Oktoberfest held on Sept. 30 and Oct. 1. Team members also made appearances at popular local businesses such as on Oct. 5, when some members visited Gert's Pub N Grub.
Team events will continue for the Rollergirls, even after the bout season is over.
According to the Rollergirls, the team will be participating in a 5k run and will be appearing at area festivals during their off season.
Punky Bruised-Her said that it is important for them to give back to the community.
"If we don't have community support, then we're not able to put on bouts," she said.
According to the Rollergirls, bouts give them the chance to interact with other teams and compete. However, the team members all agree that competing is about more than having the community support and getting to know other rollergirls.
According to 580 Rollergirl Ova' Kill, winning is among the teams top priorities.
"We are always hoping we can bring home a win for Lawton," Ova' Kill said.
Even though the season is closing, the 580 Rollergirls are always looking for new skaters, and will be holding Fresh Meat Recruitment at 6 p.m. on Oct. 10, in their warehouse located at 2507 SW. Washington Ave.
Countess Concussion, 27, is a new member to the team. She said that she had her doubts about being a roller girl, but did it anyway.
"I thought I couldn't do it, but you never know until you try," Countess Concussion said.
For more information about upcoming bouts, charity and community events, the skaters or Fresh Meat Recruitment, fans can visit the website at www.580rollergirls.com.