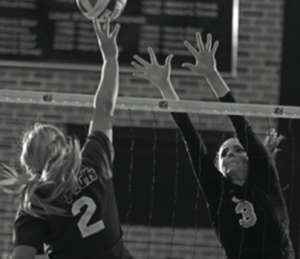 by Brandon Thompson
Cameron volleyball is geared up and ready for another fall season of play. The Lady Aggies hope to improve on last spring's record and make some noise in the conference.
The Aggies have opened up the season with a 1-1 record and have several more games on the way.
Head coach, Doug Tabbert, is confident in his team. Tabbert's squad has added some new faces that he hopes will have a major impact on the success of the team.
One of the new additions to the team is redshirt freshman Kelle Carver. Tabbert said that he thinks Tabbert can make an immediate difference on the right side.
"Kelle Carver, if she is healthy, is a very good player," Tabbert said. "She gives us a big arm and block on the right, if we keep her healthy she is an impact player."
Also, Tabbert noted that Julisa Ocasio, a junior from Puerto Rico, could help the Aggies improve on last season's record.
"Another new comer is Julisa Ociaso," Tabbert said. "She is a setter and just a really talented, all-around skilled player that can do a lot of things for us, and I think she will have a big impact."
According to Tabbert, another key ingredient to the success of this team is retaining what they learned last spring.
"I thought we accomplished a lot in the spring," Tabbert said. "We were able to bring in some new ideas and our players were very receptive during the spring."
Tabbert also said that he thought his team had numerous strengths. He explained that he is confident in his team's ability to control the ball and set his strikers up.
"I think we are going to have pretty good ball control and I think our setting is solid," Tabbert said.
As with any sport, Tabbert emphasized the impact of attitude and effort on the success of the team. Tabbert said that he had never questioned his team's effort in a match.
Tabbert also pointed out that the team is starting to build some chemistry, which could have an impact on their performance.
"I think ours is pretty good," Tabbert said. "At this point, we have got really good chemistry so far and it will impact us in a positive way."
One focus of the Lady Aggies this fall is to win the games that are close. According to Tabbert, the Aggies cannot let the close games slip away.
"We need to compete in all of them and the ones that are there for the taking," Tabbert said, "we need to find a way to win."
For these close matches to go the Aggies way, Tabbert said that he thinks the team needs to be able to generate a little more offense.
The Lady Aggies are sure to make more strides as the season progresses. Tabbert said that he thinks that this Aggies team is very coachable. He explained that their willingness to learn will show when they hit the floor this season.