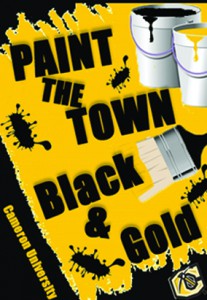 by Tiffany Martinez
"Paint the Town Black and Gold" is a student-initiated campaign that began in an effort to gain greater support for Cameron University from the Lawton-Fort Sill community. Since 2008, students from Cameron have approached businesses in the Lawton area one-by-one, requesting their involvement in the campaign.
Vice President of Student Services, Jennifer Holland, has overseen the expedition since the beginning.
"Sometimes when you drive into a town, you instantly know there is a university there," Holland said. "That is what our students wanted here. They wanted a greater university feel around our community."
Holland also said there are several ways businesses can be a part of the campaign.
"It's as simple as hanging a Cameron decal from the front of the business. That is the only commitment we ask them to make," Holland said. "They can also fly Cameron flags, hand out athletic schedules and CU posters."
While delighted by the support of over 100 businesses, Holland wishes to reach out to more businesses concerning the campaign.
"It's just nice to be able to walk into a business and see that Cameron decal," Holland said. "Community involvement is important."
Students with Cameron ID's are also eligible for discounts at many of the businesses participating in the "Paint the Town Black and Gold" campaign.
"Many restaurants, hotels, and cell phone companies offer our students deals," Holland said.
Amanda Hearne, a senior biology major, is Assistant Manager at Orange Leaf Frozen Yogurt, which offers a 15 percent discount to Cameron students.
"Half of our customers are probably Cameron students," Hearne said.
Orange Leaf is located on Northwest Cache Road, less than 10 minutes from the university.  Hearne said that, along with the student discount, the close proximity of Orange Leaf to the CU campus is definitely one of the reasons why they recieve a considerable amount of business from students.
"It's very close to Cameron," Hearne said. "Students often come in at night, grab some yogurt and use our wifi to study or finish homework."
Hearne, being a student herself, appreciates the atmosphere often generated at her place of employment.
"Students come in and I'll ask them about their classes, then they will ask me about mine. It's really nice to meet and be around people you have something in common with," Hearne said.
More information on what businesses are involved in the campaign or about how to become involved in the campaign may be obtained at www.cameron.edu/paintthetown.