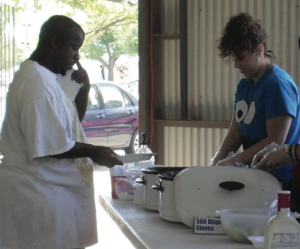 by Ashleigh Fletcher
A local ministry has made helping the Lawton community their main priority.
Bridge Park Ministry is an outdoor ministry serving the public from noon to 2 p.m. every Saturday at Bridge Park, located at Sheridan Road and D Avenue.
Jeff Henderson, the founder of Bridge Park Ministry, started working on this project in 2009.
"Starting Bridge Park Ministries was really a group effort," Henderson said. "We were lucky enough to have the help of Kim Shahan, of the Lawton Parks and Recreation Department, in finding a spot to call home."
Henderson recounts his reaction to the area of the park and his feeling that Bridge Park is where his ministry needed to be.
"I knew from the beginning this park was where we were supposed to be," Henderson said. "This is an area of Lawton that has a lot of need."
Bridge Park Ministry offers a variety of different things every week, including free meals, free clothing, free diapers, live entertainment, crafts and tutoring for children, and prayer and gospel delivered by Jeff Henderson himself.
Henderson said the goal of this event is not to provide necessities, but share the message of Jesus Christ.
"Our main goal here is not to provide people with food, clothing and necessities," he said. "Our primary goal is to share the light of Christ with others in our community."
Henderson explained that the Bridge park Ministry team has met many new people and is seeing major growth in this weekly event.
"We have met and connected with many great people who have made our ministry their church and are bringing their friends and loved ones," he said. "God has changed their hearts, they are bringing people, and the ministry is growing."
According to Henderson, donations and volunteers completely fund and run the Bridge Park Ministry.
"We are always in need of volunteers," he said. "As a ministry, we want to work and connect with anyone willing to help."
Henderson said that anyone interested in helping can contact him directly at 580.695.5196 or can sign up online to donate or volunteer at m28ministries.org
A Cameron University student group, Unforgotten Ministries, is involved with Bridge Park and is an easy way for students to get involved.
Cameron student Melissa Rogers started CU's Unforgotten Ministries one year ago, and much like Bridge Park Ministries, one of their main goals is giving back to the community.
"When we started our primary goal was to raise money for Haiti relief," Rogers said. "As time has gone we are finding community projects to be just as important to us, they are becoming our main focus."
Rogers explained that the group is small, but they are hoping to grow and collect new members.
"We are a smaller group, only about 15 or 20 people, so we get a lot of help and support from friends and families," she said. "We are looking forward to expanding unforgotten Ministries and excited for others to join us."
To become involved in Cameron University's Unforgotten Ministries students can contact Rogers directly at melissa.rogers@cameron.edu.