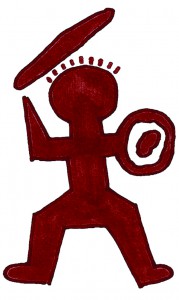 by Brenna Welch
Lake Elmer Thomas Recreational Area, with the help of Fort Sill Family and M.W.R will host Run Amok, a multiple obstacle race, on Saturday, Oct. 1.
Lawton has seen mud runs, a simular race, which included red dirt and obstacles. However, Run Amok is the first race that encourages teamwork before competition.
The race is an adventure race. At 2.25 miles, the course is just under 5k in length. However, what the course lacks in length, the race makes up for in adventure. While most of the obstacles are secret, the race will include a mud pit.
Race Coordinator Cara Bell said that the race is perfect for anyone looking for a step up from a 5k. Bell also explained that those who have never participated in a race before should not be wary.
Bell said that Run Amok is a great way to kick-start a fitness routine.
The race will start at 10 a.m. and will end with a celebration featuring the Red Bull Wings Team at the Red Bull tent with free Bar-S hot dogs for race participants while Z94's Music Machine will provide music for the end of race celebration.
Bell said that she hopes the race will be the beginning of a new activity for many Lawton area families.
"The race is a great way to spend a Saturday, getting dirty and then having a party," Bell said.
The Fort Sill MWR website says that participants should expect to get dirty within the first 30 seconds.
Run Amok aims to help participants develop valuable characteristics such as teamwork, camaraderie, fitness and self-confidence.
The race is about getting dirty and working hard but it is challenging and fun at the same time. Although obstacle races are increasing in popularity and availability, adventure races, like Run Amok rarely make it to Oklahoma.
Obstacle races are increasing in popularity and availability. Wipeout, a television show, took obstacle courses to a new level. The intention of obstacle races is to take participants out of their comfort zone, and require them to defy their limitations. These types of races often emphasize teamwork first and downplay competition.
While this is the first time that the race will be at LETRA, Fort Sill Family and M.W.R. are looking to make the race an annual event. Bell explained that based on participation and feedback on end-of-race surveys, the Run Amok may change over the years.
Fort Sill Family and M.W.R. are encouraging everyone, military or civilian, preteen age and up to participate.
"We keep adding more and more participants everyday," Bell said.
Registration began on Aug. 15, and will remain open until the day of the race. Pre-registration is available online at www.sillmwr.com. Pre-registration cost is $25 in advance but on the day of race, the cost will increase by $10. Registration and packet pick-up will begin at 9 a.m. on race day at LETRA Lodge.
Persons interested in more information regarding registration or the Run Amok event can call 580.442.0675.