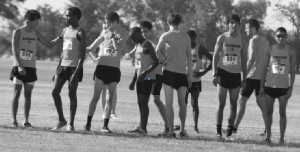 by Aaron Gill
Cameron University cross country is getting in shape for the remainder of the fall season. The Aggies are looking to better their performance from Fall 2010 and get the conference buzzing.
So far, the Aggies have had two meets in which they have performed exceptionally.    Coach Matt Aguero is looking forward to what is almost a brand new team to him. Six Aggies will be returning to the course this season with the addition of seven new freshmen runners.
Coach Aguero is very optimistic about how this season will turn out.
"The Lone Star Conference and South Central region is very strong as always," Aguero said. "I feel like we can continue to be one of the top tier teams in both."
However, the Aggies are still in the priming stage of their season. The first two races have been without a couple of key components on the roster and Aguero is ready to get them back on the course.
"Everybody is racing well," Aguero said. "I know once we get these other guys in we will be a strong team."
The Aggies' season is approaching a midway point quickly and Aguero is looking to make sure that his runners are in shape to set personal bests by the time Conference rolls around.
"Everyone is working hard," Aguero said. "We have guys running from 50 to 100 miles per week."
The Aggies hosted their own meet, an 8k race, on Saturday, Sept. 10, at The Big Green Soccer Complex here in Lawton.
The Aggies finished second overall, only to be outdone by East Central University.
"We had a good meet," Aguero said. "ECU is the top team in the region, but if we can be 100 percent healthy we can be right there with them."
Hilary Kirwa, a freshman on the team, finished second in the Aggie Showdown with a time of 25:04:72.
The only person that beat this time was Ezekiel Kissorio from ECU with a time of 25:04:53.
Four other Aggies helped the team in achieving their second place finish. Among these runners were freshman Alfonso Lozoya, who placed 14 overall with a time of 26:48:46. Freshman Tyler Jacobs brought through the middle of the pack placing 16 overall with a time of 27:01:59. Senior Brian Mulwo (27:21:88) and sophomore Marcus Trevino (27:58:19) rounded up the remaining scoring positions placing 22 and 28 respectively.
The Aggies are far from finished with their season and Aguero is ready to see just how runners will help with the rest of the season.
"In order for us to be the team we are capable of being everyone will need to step up and run well," Aguero said.
These running Aggies are not ready to hang up their spikes just yet.
With two top five finishes under their belt, the team will be traveling to Stillwater for the Oklahoma State University Cowboy Stampede on Saturday, Oct. 1.
Mulwo and Kipkosgei will be looking to once again break into the top 50 at this meet and possibly better their times from last years race.
The Aggies have a long road ahead of them until the regional meet on Nov. 5. With an optimistic coach and high personal goals set by the athletes, they hope to climb to the top of the regional charts.
For more information on how the Aggies are doing this season or to check the remainder of their schedule for the fall, visit www.CameronAggies.com