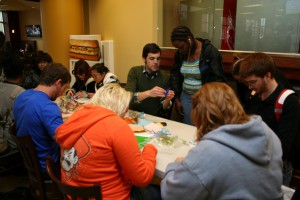 by Brittany Wolfe
On Friday, March 11, 2011, a massive earthquake struck Japan about 180 miles from Tokyo, causing a devastating tsunami that destroyed the coast. Since the ordeal Students Rebuild has collaborated with DoSomething.org, to help students from different schools worldwide, including Cameron University, to support the crises in Japan.
Cameron students made paper cranes to show their support in raising money for reconstruction in Japan. On March 28 and 29, CU students gathered in the McMahon Centennial Complex for six to eight hours and made paper cranes to donate.
Student Activities Specialist Steven Sassaman said he came across this fundraising opportunity while searching for ways CU students could get involved globally and locally. He said he likes to get students together once a month to help with service projects.
"Part of my job as Student Activities Specialist is coordinating student services, community engagement and volunteerism on campus," Sassaman said. "One of my goals for this semester was to develop and implement some type of smaller scale service project or some type of engagement activity once a month to get students thinking about global issues or things in the local community."
Paper cranes are a simple and powerful gesture that will generate a $200,000 donation from the Bezos Family Foundation. This is a private independent foundation established by Jackie and Mike Bezos. The foundation works to strengthen educational opportunities for everyone.
The Bezos family will donate $2 for every crane received and have a goal to receive 100,000 cranes from schools around the world to then be woven into an art installation. The art installation will be a symbolic gift from students around the globe to the people of Japan. All donations will go to the Architecture for Humanity's reconstruction efforts in Japan.
Architecture for Humanity and its teams of volunteer professionals in Tokyo, Osaka and Kyoto are collaborating with organizations for students to help mobilize around a long-term reconstruction effort.
According to Sassaman, paper cranes are a part of Japanese culture. Paper cranes are sacred creatures and according to legend, anyone who folds a thousand paper cranes will be granted a wish by a crane. The Bezos family's goal of collecting paper cranes from young people to represent 100 wishes of support and healing for Japan. A list of wishes will begin to appear when they receive the first 1,000 cranes by mail.
"After hearing about the crises in Japan, I figured this was a great way to get students engaged globally," Sassaman said. "I also thought it was a cool way to let students learn about the Japanese culture, since the paper cranes are a Japanese tradition.
Sassaman said about 100 to 150 CU students including him and a group of student volunteers attended the paper crane event in the MCC. He said groups of 15 students made 20 cranes each and overall there were 1000 cranes created to donate. A total of about $2000 was raised by CU students making the paper cranes to be donated.
"On Monday we made so many cranes that we actually ran out of paper so I had to run to Hobby Lobby and get more for Tuesday," Sassaman said.
According to Sassaman, anyone who is interested in this CU service project can stop by his office Monday through Friday between 8 a.m. and 5 p.m. upstairs in the McMahon Centennial Complex or they can log onto Facebook and "like" the page CU Serve. The page is a great way for students to know what events are coming up and to find out about any service opportunities in which students can get involved in our community.
"Our Facebook page, CU Serve, is a great way for students to always be aware of what events or service projects we have coming up," Sassaman said. "It is also an easy way to advertise to get students involved in all of our projects."