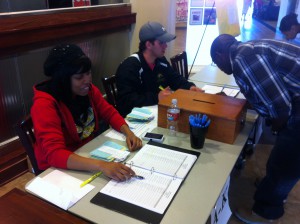 by Elijah Morlett
On April 6, Cameron University Student Activities announced the results of the elections for the Student Government Association, which represents the student body directly to the executive board of Cameron University's administration.
Junior Cody Gardner, a Communication major, has been reelected as the SGA president. Gardner will be sworn in for her second straight term later this month.
"I am excited that I get to represent Cameron again and anxious to see what the next year has in store," Gardner said.
According to Gardner, the objectives of SGA next year include growing as an organization and introducing more legislation to help Cameron.
"We want to recognize the issues that the students and Cameron University are facing and making sure they are addressed in some form of formal consideration," Gardner said.
Junior Stephanie Belter, a Sports Fitness Management major, will be next year's vice president. She has served as an appointed officer in SGA during the past year.
"My expectations for next year are to improve our numbers in SGA," said Belter. "I would like to get more clubs involved in student government."
Junior Barkley Kirk, an Accounting major, will take the role of treasurer for the upcoming academic year. Kirk previously held a Senator position for the School of Business and was a member of the finance committee.
"One of my goals as the new SGA treasurer is simply to maintain the standard of excellence exhibited in the past," Kirk said. "I want to make sure we fully utilize our resources."
"I've enjoyed being involved in SGA in the past and I look forward to an opportunity to become more involved," he said.
SGA is a student-run organization consisting of a Supreme Court, representatives from student organizations, eight elected senators from the various academic schools at Cameron, committees, appointed officers and elected officers.
The purpose of SGA is to hear concerns of the student body through the students within the organization. Members of SGA write legislation that is voted on through parliamentary procedure.
Legislative resolutions that are passed within the organization are forwarded to President Cindy Ross for further evaluation and implication of the resolutions.
"Cameron SGA has always been a great student organization in the past, and I know next year will be no exception," Kirk said. "We have some excellent advisors leading the organization, enabling us to collectively accomplish some very neat things."
Past resolutions that have affected students include the Paint the Town Black & Gold campaign, the campus Tobacco – Free Initiative and the addition of more sidewalks on campus.