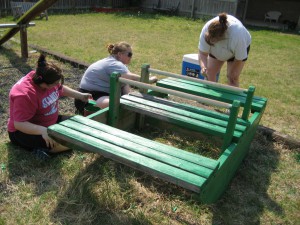 by Elijah Morlett
Cameron's Sociology Club has been working to strengthen their presence on campus and in the community. The club's members have begun to branch out by doing several community service projects throughout the Lawton area.
According to the club's president, senior Sociology major Janna Davis, members have been working hard to increase their productivity over the past few years.
"We have been raising money and donating service and goods for organizations that are in need," Davis said. "We try to do an activity every month."
The club's mission is to promote intellectual involvement among students and to provide students with the opportunity to get to know other individuals who are interested in the field of sociology.
Through community service, the members get a hands-on experience with themes of sociology and are able to interact with a broad range of people.
The club's most recent service project occurred on April 9 with Marie Detty Youth and Family Services. Several members revamped a children's playground at one of the Marie Detty shelters.
"We repainted their playground with bright colors," Davis said. "It all took about five hours."
The club has also been involved in aiding other Marie Detty shelters, the Salvation Army Homeless Shelter, the Animal Birth Control Clinic, Department of Human Services Foster Care Agency and other organizations.
"We plan on working with the Criminal Justice Association in the fall semester for other projects," Davis said.
Fundraisers are common for the club. The money is used to gain materials needed for their service projects.
The club normally attempts to aid community organizations on whatever is needed most at the moment. The club regularly supplies their own equipment with money gained from fundraisers.
The next project is to raise money, make and donate Easter baskets for the local children's shelter.
According to Davis, the club also helps students add to their resume with the number of activities the organization plans.
Membership in the Sociology Club is not restricted to Sociology majors.
"The Sociology Club is open to all students," Davis said. "We have some Criminal Justice and Psychology majors participating."
For more information on joining the Sociology Club, contact the organization's advisor, Dr. Su Lee, or visit the Department of Criminal Justice and Sociology on the second floor of Nance Boyer.