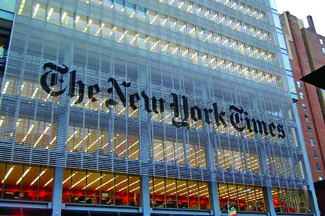 by Rachel Engel
The best things in life are free. Well, they used to be, anyway.
On March 28, the New York Times rolled out a new pay wall, forcing readers of the Times website, as well as its mobile and tablet applications, to either purchase a monthly pay plan, or be satisfied reading only the top headlines.
The pay plans start at $15 for access to the website and mobile application, then $20 for the website and tablet application access, and finally peak at $35 for access to all three.
As a journalist, I understand this move; as newspaper circulations continue to plummet, it was either eat or be eaten for the Times. The pay wall has the potential to remedy that situation.
And, the monthly fees are not the only options for casual readers: the first 20 articles are free, and any Times link shared on social networking sites are fair game, as are links found through search engines.
However, the problem for me came when I tried to find the best option to fit my reading habits. I read 20 Times articles over the course of two days, so not purchasing a plan is not an option.
Doing a little research, though, I found that if you are in an area that supports daily delivery of the Times, for only $29.60 a month, you receive a tangible copy of the paper daily, as well as unlimited access to the website and any mobile or table application.
Back up.
So, if I want to be able to read articles using my iPhone and iPad application, I have to pay $35 for the "premium" package. But, if I'm lucky enough to live in an area that supports daily delivery of the paper itself (which I do not, at the moment), I can have complete access to everything, as well as a keepsake, for a savings of $6.
Something seems a bit off.
I understand the thought process, I really do. Either bolster sales of the newspaper, or pay a higher price for online content; I get it. But, to go from content being completely free to paying a higher price than even a normal subscription, doesn't make much sense.
I will most likely purchase the lowest subscription plan for now, until I move to an area that supports daily delivery, but I can't vouch for the rest of the public.
Internet news has always been free, and judging by the most recent reviews on the Apple Application Store for the Times mobile application, people aren't happy being asked, suddenly, to pay for it.
If it succeeds, it could mean the rest of the online news industry would eventually move to some form of a pay wall. If it fails, it would only mean more bad news for an industry struggling to find itself in a technology-driven world.
Only time will tell.