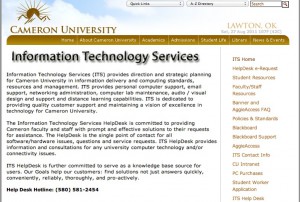 by Becca Craft
The Cameron Information Technology Services Help Desk has been receiving several phone calls from students concerning problems that the Help Desk is not equipped to answer. While this may not be a new problem, it is one that the administration is trying to address to better meet students' needs.
Several of the calls that the Help Desk has received concern financial aid or enrollment questions. As a branch of the ITS department, Help Desk technicians are only able to answer computer technology questions. However, a part of the problem rests in the fact that some of the students who call the Help Desk may be unaware of the specific services that it offers.
"I'd assume that the title 'Help Desk' would refer to something that could give you course information or is a directory that might be able to transfer you to different departments," junior Tyler Breeze said. "That's what the help desk did at my other school."
Though the Help Desk is able to help students get connected with the other departments on campus, the questions that they are able to answer primarily concern computer technical problems.
"The Student Help Desk assists with student account related issues, such as login problems, password changes, blackboard related issues, SafeAssign, or web-page uploads," Academic IT Center manager Margot Gregory said.
Misdirected calls also happen frequently at the beginning of a semester when students new to Cameron attempt to log into AggieAccess or email accounts.
"After students are admitted to Cameron, they receive an admissions letter showing them their password and user name for their accounts," Gregory said.
"However, these accounts are only available after a student is enrolled. A large number of students who are accepted but not enrolled call us with questions about why their accounts aren't working. Others may have questions about their user name or passwords. A large number of the calls we get concern how to log onto, operate, or upload assignments onto Blackboard."
When students call the Help Desk with questions unrelated to a Cameron server or account, the technicians at the Help Desk are able to send student information to the correct department.
"In the beginning of the semester, we get calls from students who don't know what it is that they need," Gregory said. "We try to direct them to the right place. It's not really a problem for us. When there's an issue a student is unable to fix or a student is unable to get through to a department, they may call us because they are able to get through."
According to Gregory, the Academic Computer Lab where the Help Desk is located is rarely crowded during the day, making it more accessible to students who are in need of immediate assistance.
"We're kind of like a Girl Friday here," Gregory said. "We help people get done whatever it is that they really need."
The Academic Computer Lab is located in Birch Hall. During the fall and spring semesters, it is open from 7:30 a.m. to 11 p.m. Monday through Thursday, 7:30 a.m. – 6 p.m. Fridays, 9 a.m. – 5 p.m. Saturdays, and 1 – 10 p.m. on Sundays.