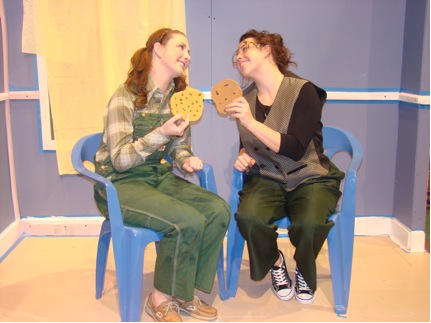 by Tahira Carter
The stress of finals will remain outside the doors of the Cameron University Theatre on Apr. 21 as the students recreate the jovial children's musical, "A Year with Frog and Toad."
Adapted to the stage from the children's books written by Arnold Lobel, the play proves to be a joy for all ages. Brightly colored props, creative costumes and clever humor set the tone for the yearlong journey of two quirky friends.
Frog and Toad guide the audience through four seasons of fun activities that highlight Frog's happy temperament and the contrasting unpleasantness of Toad. The play hopes to teach the importance of acceptance and friendship as audience members watch the characters learn and grow from each other's differences.
Theatre major Amanda Richey plays the role of Frog in the production and interprets her character's outgoing attitude and readiness to help to be the true meaning of friendship, "to be there for somebody wholeheartedly and help him or her through any situation."
Toad's character is played by Leah Mazur, a junior and theatre major, and provides the controversy in the history. Naturally inclined to be a pessimist Toad is usually the one that learns a lesson at the end of each scene.
Despite the fact that the characters and scenes are very fanciful, Mazur said that the audience would still be able to identify with the material because they can relate it to real life situations.
A bit of imagination would still be required to perceive the play's animal-like creatures as their characterizations rely wholly on costuming without the help of elaborate make-up. Theatre Department chair and play director Scott Richard Klein explained that portraying the characters in this manner is in keeping with the requests of the original playwright.
This production marks the first musical and final production of the school year. This production has also provided an occasion for Cameron to put on a play that appealed to younger audiences.
"We do a musical every year and this one was selected, in part, because it would be a chance to do children's theatre which we don't do often," Klein said. "It was also an opportunity for the students to learn this technique against the regular music comedy technique."
The theatre production of  "A Year with Frog and Toad" was made famous in 2003 when the play had a stint on Broadway. Musical favorites such as Getta Loada Toad, I'm Coming Out Of My Shell and Merry Almost Christmas will be featured in this weekend's presentations.
The show will be presented at the CU Theatre from April 21-24 with evening performances at 7:30 p.m. and the Sunday matinee at 2 p.m.
For further information, please contact the CU Theatre at 580.581.2346 or visit www.cameron.edu/theatre_arts/season.