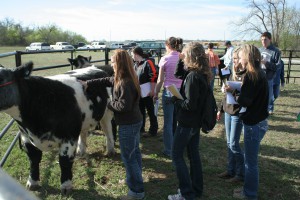 by Ashleigh Fletcher
The Cameron University Agriculture Department played host to nearly 500 students Wednesday during the annual Agriculture Interscholastic Meet.
During the event high school students, representing 70 different schools across the state joined at CU and showed off their skills.
Several different agriculture contests were held during the meet in areas ranging from meat judging to landscaping and everything between.
Dr. Leon Fischer, Chair of the Cameron Agriculture Department and coordinator of the competition, offered some detail on the event.
"The Interscholastic Ag meet is made up of different Career Development Events. The meet consisted of a series of hands on judging events and also a jeopardy like quiz bowl," Fischer said.
Fischer explained that the students competed in teams, but could also be recognized as individuals.
"All of the events were team events but we also allow individuals to compete and be recognized," he said. "This allows for smaller schools, or schools who do not have enough participants to make a team, to compete as well."
He also added that the Interscholastic Meet is always a big event for the Agriculture Department and has been held at Cameron for more than 50 years.
Fischer revealed that part two of the event, an oral communication event, would take place April 26, 2011, at CU.
"The next event is the Southwest District Speech Contest," he said.
Fisher described the speech contest and explained what the students will be doing.
"During this contest the students will present speeches for judges from 11 different Agriculture related categories," he said.
According to Fischer, these events are qualifying competitions for the later State Competition.
"Teams and individuals will take home awards and then go on to compete in the State Competition," he said.
Fischer also explained that in addition to being great educational events and learning experiences for students, these events also serve as a recruiting opportunity for the University and the Ag Department.
"This is a big recruiting opportunity for our department," he said.
According to Fischer, exposing the students to Cameron is one of the underlying goals of both events.
"We try to get the students exposed to the Cameron campus as much as possible," he said.  "We want them to experience our student friendly environment and make them feel welcome here at the university."
According to Fischer, it is all about getting students interested in CU by showing the university's interest in them.
"We try getting the kids interested in Cameron," he said. "We want to show them that the Cameron University Agriculture Department would love to have them here for their college career."