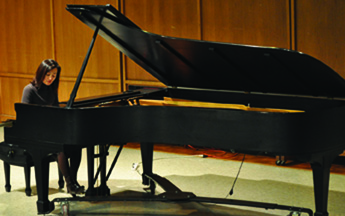 by Megan Bristow
On Friday, Feb. 25, sixth graders from Central Middle School, MacArthur Middle School, and Lawton Academy of Arts and Sciences were audience to a special presentation by Cameron University's McMahon Endowed Chair in Music, Dr. Hyunsoon Whang.
Dr. Whang presented students from the Gifted and Talented Program of the schools in the Lawton Public Schools program and the students from the Lawton Academy of Arts and Sciences with a piano performance centered on the discussion of the difference between the romantic and classical style of music.
This program, 'Are You Romantic or Classic?' was not the first time that Dr. Whang has presented this type of opportunity to students from nearby schools.
"This is the third year of doing it. The feedback from the teachers, parents and students has been overwhelmingly positive," Dr. Whang said.
Dr. Whang coordinated this year's program with Stephanie Adair, the program coordinator of the Gifted and Talented program for Lawton Public Schools, in order to synchronize the presentation's topic with material that the students were learning in class.
Cameron's Director of Media Relations, Janet Williams commented that this coordination between Lawton Public Schools and CU is a good example of how the two organizations work together.
"It's a nice example of the synergy between LPS and Cameron since Dr. Whang is presenting a program that reinforces LPS' curriculum," Williams said.
The recital featured compositions from timeless artists such as Haydn, Chopin, Schumann, Liszt, and Mozart.
Dr. Whang desires to improve students' lives through the exposition of new styles of music.
"Hopefully it will open the world of classical music to them if they are not already familiar with it," she said. "I believe that all arts including music feed one's soul, and good music is essential to young people's emotional and psychological well-being."
Similarly, she said that she hopes that through her performances, young people will develop an interest in classical music that may not have been revealed before.
"I want them to know that classical music is very accessible, contrary to what many people believe," Dr. Whang said. "Classical music is not stuffy, academic, or boring; nor is it for the elite only. Classical music is for everyone and all ages. It just has to be introduced in the right way."
According to Dr. Whang, not only do the students learn a lot at the recitals; but also many are grateful for the chance to participate in these events.
"They have a great time when they come," she said. "They are enthusiastic and happy. I have received many cards and thank you notes from students.  Many of them tell me that this was their first time attending a piano recital, and how much they loved it. They want to go hear or see more classical concerts."
Cameron's renowned professor and performer, Dr. Whang has coordinated this event for the past three years and plans to continuing enlightening students to this form of music in the years to come.