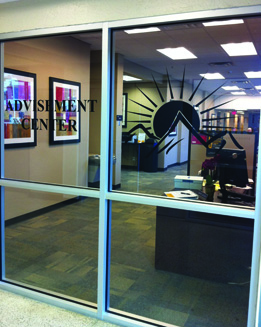 by Brittany Wolfe
Cameron University has a new enrollment center for freshmen, sophomores, and transfer students with undeclared majors. The Academic Advisement Center is designed to provide students with advice regarding careers, majors and course selections. The AAC also helps students finish developmental course work.
According to Vice President for Academic Affairs, Dr. John McArthur, the AAC has six enrollment specialists and a number of faculty and staff who will work with the students in the center. The advisement specialists help the students with academic requirements for each major, information about financial aid and student support facilities such as tutoring labs, computer labs, math labs and the writing lab.
"We believe if we have faculty members that are well versed with various topics, they can help our student's success," Dr. McArthur said.
Since various departments such as Education, Science, Business, and a few others have the majority of the students majoring in these fields, the enrollment center has academic specialists who are very knowledgeable in each of these fields.
"We want to make sure we have advisement specialists who are knowledgeable about our departments that have a higher student population," Dr. McArthur said. "The advisement specialists are picked to have an area for which they will be expected to know a little more about. This is the area they are supposed to go out and visit more within the academic departments."
In the past with CU's Gold Rush summer enrollment sessions, hundreds of students would attend the enrollment event on certain days. Now with the new AAC, Gold Rush will be
about every four weeks with only 20-40 students being enrolled during each session. This helps students have a longer one on one enrollment session with an academic specialist.
"When the students come to enroll, we want them to be able to have a personal experience and take as much time as they need with each advisement specialist," Dr. McArthur said. "In the past at Gold Rush, there have been hundreds of students in one day enrolling and with some departments having more students to enroll; they would have to rush to get every student enrolled." The AAC will start enrollment for summer and fall classes on March 25. The center is open from 8 a.m. to 5 p.m. Monday through Friday with additional extended hours one night per week.
"We hope the Academic Advisement Center will help students with everything they need to become successful and to also produce even more graduates," Dr. McArthur said.