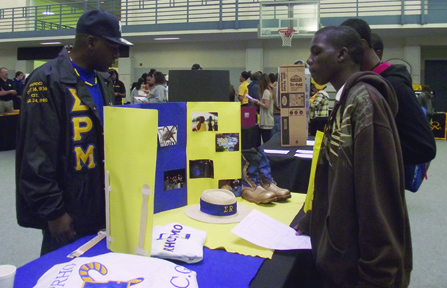 by Tahira Carter
Future college students had the opportunity to experience a taste of campus life on March 5, as Cameron University held its annual CU Saturday event.
Each spring the university welcomes prospective students and their parents to visit the campus where they can have an opportunity to meet with current students and members of faculty, learn about the admissions process and preview academic programs.
This process is beneficial for high school juniors and seniors who plan to further their studies in the near future. "Choosing a college is a very big decision for students, so we want to do anything that we can to help them as they make that selection," said Jamie Glover, Associate Vice President of Enrollment Management.
The event began at 9 a.m. with registration and breakfast in the McMahon Centennial Complex and the opening program directly followed it at 9:30 a.m., which featured three speakers, Cameron University President Dr. Cindy Ross, Associate Vice President of Enrollment Management Jamie Glover and Vice President of Student Activities Jennifer Holland.
The speakers highlighted the various academic and co-curricular activities available at Cameron and addressed common parental concerns about on campus living such as security. There was also a question and answer section of the program where Aggie Ambassadors, AJ Adenuga, Lizzi Moini, Chas Holbrook and Britany Pyfer answered impromptu questions from the audience.
AJ Adenuga, a junior in pre-medical studies, has been a Cameron Aggie Ambassador for over a year and was pleased with the growth that he has seen in the group.
"We used to be 16, now we're 25 because enrollment has increased and it's increasing every year," Adenuga said. "I enjoy it; it's fun working with a lot of people."
The opening program ended at 11 a.m. and guests were then invited to attend the Browsing Fair in the Student Fitness Center where various student organizations and department representatives were available to provide further information on campus life and to answer specific questions.
Many parents were satisfied with the information that they received throughout the day's activities. Single parent Christie Storey was impressed with the financial aid available at the university and the staff's willingness to help.
"We have a situation that a lot of people have these days and it's a single income family. At Cameron the help has been phenomenal and the information has been phenomenal," Mrs. Storey said.  "Every time we've had a question they directed us to somebody that could tell us what we needed to know, they haven't just said go to our website."
Storey also explained why she felt CU was the right choice for her son. "I love the town of Lawton, it's large enough to be Metropolitan but small enough to be manageable and I think that Cameron will keep him in line and keep him with a goal in sight," Mrs. Storey said.
Josh Storey, her son, was interested in Cameron because of his family's history at the institution but was pleased to learn about all the co-curricular activities that are available to students.
"I really like Cameron because I have a cousin that came here and I have friends that come here," Storey said. "At  this morning's meeting I learned that there are a lot more scholarships and activities available than I thought. The Aggie Ambassadors looked interesting to me and it's something that I would like to try."
CU Saturday concluded with guided tours around the campus grounds.