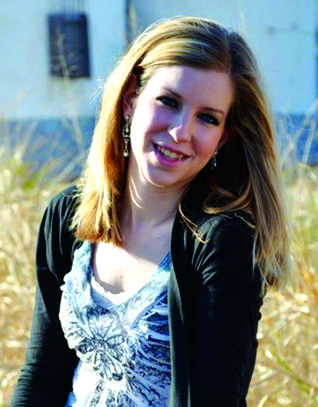 by Collegian Staff
Cameron University student Katherine Sanders was killed on Feb. 27 in a hit and run accident.
According to a Department of Public Safety report, at 1:34 a.m. Sanders, 21, was crossing near the 7700 block of Southwest Lee. She was walking with Terri Dianne Roberts, 41, when a 2007 Chevy Trailblazer struck the two women, then fled the scene. Police eventually arrested the driver, 34-year-old Tennille Dion Akenito, Lawton.
Akenito has been charged with one count of first-degree manslaughter and leaving the scene of a fatality collision, as well as a misdemeanor charge of operating a vehicle under the influence of alcohol.
Assistant Professor of Communication Mr. Steve Adams knew Sanders as a student, and feels her presence will be missed by many.
"I think her loss will be felt by anyone who knew her, whether it was just casually in the classroom, or as a good friend," he said.
Dr. Christopher Keller, Associate Professor of Communication, also had Sanders in class.
"Kat had a truly sweet personality. She was bright and cheerful and just an all-around pleasant student to work with. Her sister, Angela, is a former 'Collegian' editor and reporter of mine, and I was always struck by how much they reminded me of each other. Angela was a remarkable journalist, intelligent and driven," Dr. Keller said. "I saw the same in Kat. I was very much looking forward to working with her as a journalist and newspaper staff member. It is a tragedy, truly, that a young woman with such potential and promise was taken from us."
Further details surrounding Sanders' death could not be obtained by "Collegian" editors. When asked for accident and booking reports, Lawton Police Department officials repeatedly refused access to official documents. This denial of timely news media access appears to be in violation of the Oklahoma Open Records Act (OKLA. STAT. tit. 51, § 24A.8(A)(3)), a law which states:
"Access to records which, under the Oklahoma Open Records Act, would otherwise be available for public inspection and copying, shall not be denied because a public body or public official is using or has taken possession of such records for investigatory purposes or has placed the records in a litigation or investigation file."
As the "Collegian" editorial staff investigates, updates in our reporting will be published here on www.aggiecentral.com.