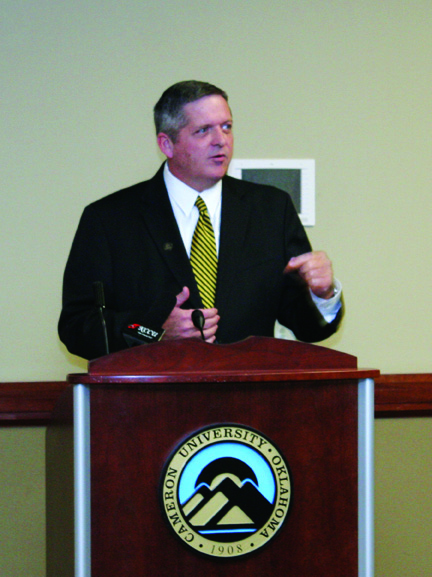 by Rebecca Craft
Cameron's Student Services has received a $12,000 donation from AT&T to use in the development of their programs.
"Improving our educational system at all levels and ensuring that more students stay in school and graduate are important goals for AT&T," Bryan Gonterman, President of AT&T Oklahoma, said in a Cameron press release. "An educated workforce will help to bring new businesses to our state, generate better-paying jobs and strengthen our overall economy."
The donation, which is specifically intended for developing Student Support Services, the CU Succeed workshops, and the new "Moms and Dads on Campus" organization, is meant to provide more money to programs that will help students most successfully complete their degrees.
"AT&T agreed to donate $12,000 to Cameron University," Jennifer Holland, Vice President of Student Services, said. "That money is supposed to be geared toward programs that help students successfully complete college, specifically, non-traditional students and under-served students."
While Student Services is already funded in part by federal grants, their programs require additional assistance in order to attract students.
"The federal government gives us money to provide services for students who qualify for Student Support Services," Vice President Holland said. "However, those funds can only be used specifically for what you've written in the grant. They cannot be used for some of those things that really attract students to the program, like free food and free t-shirts, some of those marketing incentives for which you cannot use grants. It makes it hard sometime for us to figure out how to make things happen."
Among Cameron's many donators, some may give specifically to a certain department or organization. According to Vice President Holland, AT&T's donation not only gives Student Services their own funding, but also allows Student Services to dictate where the money goes.
"The funds, because they're earmarked for programs that help students complete college, give us a lot of flexibility about where we spend them," Vice President Holland said. "We've allocated them out to those three areas, but there's a little bit left for when we have a creative idea so that we can utilize those funds to be able to provide something new for students."
Several students on campus may be unaware of all of the services and tools provided through Student Services funds.
"I knew that they were a part of the job shadow event and job fair, but I didn't really know too much of anything else that they did," sophomore Michelle Bernard said.
For others, like junior Rebekah Bowers, the times of the events or programs may consistently create schedule conflicts.
"Usually at the times they offer stuff, I'm in class," Bowers said. "Being a science major, you usually have labs in the afternoon, so we're unable to go to those events."
Through AT&T's donation, Student Services will be able to devote more money to better market and potentially add extra events.
"We haven't seen a lot of cost increases in items, but when we're serving more students there's always a bigger need," Vice President Holland said. "Instead of supplies for ten students, we might need supplies for 20 students. Instead of 13 workshops, we may want to do 20 workshops. All of those things make a difference."
With specific programs and services already targeted, Vice President Holland is grateful to have the extra funding available to begin making additions.
"We've tried to make them happen with the limited resources that we have," she said. "The donation will really allow us to enhance each of those programs."