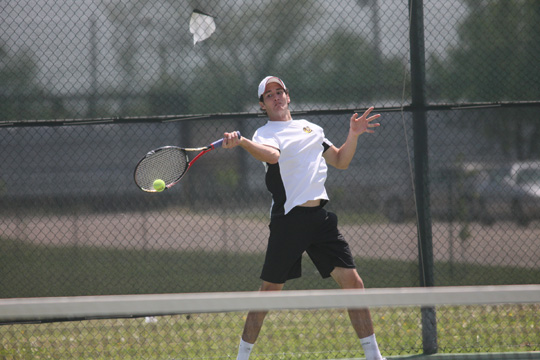 by Amanda Cantu
The wait has been far too long, but Cameron men's tennis season is officially underway. The men opened match-play with a series of four matches that began on Feb. 10 and continue on Feb. 11.
Since the team's inception 18 years ago, James Helvey is the only men's tennis coach CU has ever known. Under his instruction, the team has never had a losing season. The Aggies intend on continuing that tradition this spring.
CU starts the season ranked 20th in the nation and third in the region. However, the team has every intention of ending the season closer to the top spot, and they have the talent needed to get them there.
The Aggie men have high expectations of newcomer Santiago Romero. The Argentine freshman is a hard-hitting baseliner who shows a wealth of promise.
"Santiago is just a good player," Helvey said. "He's smart on the court; he's mature and he brings a lot of experience to the team."
One of Romero's biggest weapons is his serve.
"He has a really good serve. It's very consistent," Helvey said.
Among the other newcomers the team will count on are Duje Janjic, Nicolas "Nico" Clerc, Mateus Campos and Patrick Eichler.
Janjic, a native of Croatia, is a tricky left-hander who also has a powerful serve.
"A left-handed serve comes to most players at a different angle than they're used to, and that can be an advantage," Helvey said.
The team has another lefty in Clerc. Like Romero and Janjic, the Buenos Aires native can hit the ball big.
"Nico has a big serve and a big forehand," Helvey said. "I like seeing what he's doing in practice."
Campos and Eichler joined the CU squad at the start of the fall season and were critical in helping the men go undefeated during that time.
Campos comes to CU from Salvador-Bahia, Brazil. The Aggie junior is a versatile player with a complete game.
"Mateus is an all-court player and just an all-around player," Helvey said.
Eichler is a talented freshman who has all the makings of a great athlete.
"Patrick is playing well," Helvey said. "He's a very good player and is very mature for a freshman, and that's a major advantage."
On top of the five additions to the squad, Helvey has high expectations of the team's returning players.
"I expect the returners to pick up where they left off last year, and that's happening," Helvey said.
The men will count on the experience of returning junior Thomas Peixoto. The 6-foot Brazilian posted a 20-8 record last season, and is already showing signs of continuing his high level of play. Peixoto is regionally ranked eighth in singles. In doubles play, he and his partner Eichler sit at number six.
The team will also be looking to sophomores Jorge Gerosi and Manuel Barroetavena to keep playing with the same intensity they brought to the court last spring.
The men's coach characterized Gerosi's style of play as methodical and deliberate.
"He tries to wear you down," Helvey said. "He tries to make you make mistakes."
Barraoetavena's style differs from Gerosi's, but is equally as effective. Barroetavena brings passion and ferocity into every match he plays.
"Manuel is so aggressive and so full of life," Helvey said. "He's exciting to watch."
As the team's lone senior, Lawton native Jeff Sasser carries a load of expectations on his shoulders this season.
"As a senior, I expect Jeff to be an example," Helvey said.
Helvey also recognized that Sasser has the skills to live up to what is expected of him on the court.
"Jeff is a really good doubles player. That is where I really want him to shine," Helvey said.
Though the team Helvey has assembled this season is highly gifted, the men will be tested by staunch competition.
"Everybody is tough," Helvey said. "The days of 'gimmie' matches are over. Everyone we play will be very challenging."
Despite the challenges that lay ahead for the Aggies, Helvey hopes the team can repeat the success they had in the 2008 season when the men won both the conference and regional championships.
The CU men will next play on Feb. 23 against Oklahoma Baptist in Shawnee, Okla.