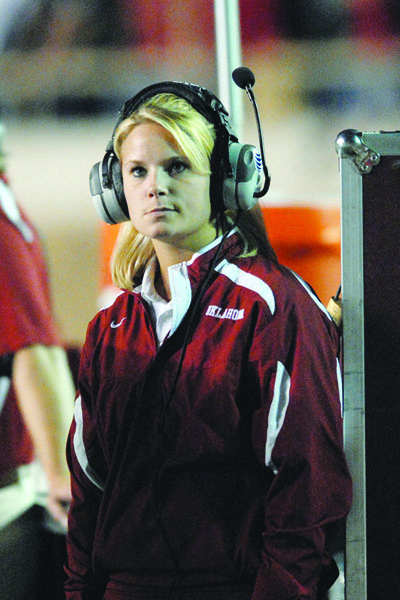 by Rachel Engel
Collegian Staff
After achieving their bachelor's degree, most students choose one of two paths: head to graduate school, or join the workforce. But, for 24-year-old Emily Virgin, public service seemed like the right choice.
Virgin is running for the Oklahoma House of Representatives in District 44, which encompasses the University of Oklahoma where she is a graduate student studying law. She comes from a family with a history of political involvement: her father was elected to the City Council in Moore, OK, when he was 19, and ran for mayor in his early twenties.
Virgin said the decision to run came after realizing that Rep. Bill Nations (D-OK 44th District) was term-limited, and that she might be able to make a difference.
"Right before I started law school, I had been thinking about [running] a little bit," she said. "I had always been involved in community service and volunteer work, and I had started to see a lot of the budget cuts that were taking place affect these organizations. I always said that if I saw an area where I could really make a difference in, I would get involved."
Though she was the one who ultimately decided to run, Virgin needed to show her parents that she could balance a balance a campaign along with her graduate studies.
"It was pretty much my own decision, but my parents were skeptical at first," she said. "Not that they though I couldn't do it, but it is very hard and very time consuming. There's not a lot of time for anything else other than school and campaigning."
By scheduling her graduate classes for in the morning, Virgin is able to knock on doors, return phone calls and work on her campaign in the evening, though she is often mistaken for a volunteer.
"It's gotten a little better because I've been doing it since March," she said. "At first, people just assume I'm a campaign volunteer, then when I tell them who I am, their first question is 'How old are you?'"
Dealing with her age and her young looks has been an obstacle, but one she's worked through, Virgin said.
"People were very hesitant at first to believe I had any common sense or life experience," she said. "Then I would force them to have a conversation about the issues. I would be able to contribute and that would put their fears to rest. I still have some people say, 'No, you're too young,' but it's gotten better."
Virgin said that many of the people she has talked to have been excited about the prospect of having someone so young making decisions.
"People are excited that young people are getting involved," she said. "They're tired of the status quo. Some people are taken aback at first, but especially older voters tell me we need some new blood, some fresh faces and fresh ideas. On the whole, it's been positive."
Despite her campaign, Virgin has managed to maintain as much of a normal college life as she can.
"When I started law school last August, I hadn't officially announced I was running," she said. "I made an effort to make good friends before I told them I was doing this so they would still see me as a normal person. It turned out the friends I made are very politically involved and supportive. I do make a big effort to try not to look like a candidate at school, though."
Virgin has not decided on a lifelong career in politics; she's focused on earning her law degree, and eventually pursuing private practice when the House is not in session if she is elected.
According to Virgin, balancing school and running for public office can be done with the right amount of organization, and feels the experience is worth it.
"Through all the bad things, through people being rude, it really makes it worth it when people come up to you and say, 'That issue is a huge issue for me, thank you for understanding and being aware of it,'" she said. "That really makes it worthwhile. I could be a normal student right now, worrying about normal student things, but I am lucky to be able to do this."