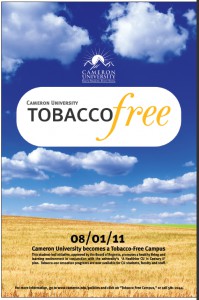 by Rachel Engel and Ishia Saltibus
Students at Cameron University have led the way for the campus to become tobacco free, beginning in August 2011.
The policy proposal was originally a push for a smokefree campus initiated by the Student Government Association (SGA) in the fall of 2009, and would have allowed smokeless tobacco to be consumed on school property.
Once SGA approved the measure, the Faculty Senate endorsed it, and recommended the campus become tobacco-free. The policy, which was approved by the University of Oklahoma, Cameron University and Rogers State University Board of Regents on May 13, bans the use, sale or distribution of tobacco products on campus.
Organizations and publications associated with CU will be prohibited from accepting advertising, endorsements, sponsorships or gifts from anyone related to the manufacturing of tobacco products.
[wpvideo ST6P1Vkd]
Vice President of Student Services Jennifer Holland said the idea had been discussed before among members of SGA.
"It has actually come up several years in a row in some form or another, 2012 academic year, CU plans to offer seven-week tobacco-use cessation programs throughout the upcoming school year, and to advertise the policy on campus through fliers, posters and meetings.
"I'm hoping we can offer cessation classes twice during the fall and spring, and once during the summer session," Holland said. "We feel it's important to spend some time communicating with the campus community, and making students, faculty and visitors aware of the policy change."
The university will have the authority to issue citations for policy-violators; however, fine amounts have not been set. Holland hopes it won't be necessary.
"Legislation has passed that allows us to write fines for this," she said. "Our hope is to remind students and faculty politely that we are a tobacco-free campus. Our intention is not to exclude people. We want to be proactive and responsible, not radical or revolutionary."