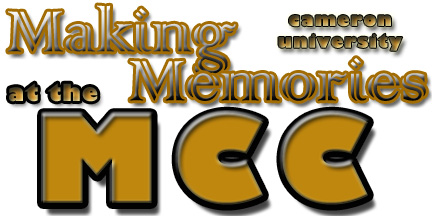 AggieCentral editors were live on scene at the "Making Memories at the MCC" dedication ceremony Thursday, April 8. Following is our coverage of the event.
Memories were made this afternoon as Cameron University President Cindy Ross and members of the Oklahoma Board of Higher Education Regents officially dedicated the McMahon Centennial Center.
CU President Cindy Ross, Dedication Speech
[vsw id="YmiJs_uYiHI" source="youtube" width="425″ height="344″ autoplay="no"]
"Cameron University has come from a sleepy regional college here in Lawton to a great public regional university," said Larry Wade, State Regent. "You have this great edifies — hub of campus life. It offers a place where students can socialize, study and play. It is a place where the university can connect students and faculty."
After the ceremonies began at noon, Dr. Ross introduced many of the benefactors that made the $14 million project possible. She spoke to the more than 100 people gathered in the Bentley Gardens and told them it was time to start making memories at the MCC.
CU Student Amanda Finch
[vsw id="6xpqWsUv7HY" source="youtube" width="425″ height="344″ autoplay="no"]
"This is what dreams are made of," Dr. Ross said. "Two years ago, we looked at a vacant lot and dreamed this day would come. That day is today."
Several current students and a future student appeared on the Cleo T. Craig Balcony to spotlight the many benefits the MCC brings to Cameron University. Taylor Lanman, an Eisenhower High School student and future English Education freshman, spoke about having her senior prom in the McCasland Foundation Ballroom. Lanman had an opportunity to tour the MCC and said she's impressed with what it can bring to Cameron.
Fred Schmdit, the lead architect on the MCC building, toured the grounds and the Bentley Gardens before the ceremonies began. After several years of planning and nearly two years under construction, Schmidt said he was pleased with the final product.
"I'm proud to be a part of what will certainly be a super addition to the campus," he said. "It's all about the students and the community. And this building is something the university can share with the rest of Lawton."
Story by Joshua Rouse, Pictures by Kyle Luetters and Jim Horinek,Video by Luetters, Jenny Ann Roig, Michael Faggett and Ali Knerr, Podcast by Luetters.
Regent Larry Wade
[vsw id="__C_HutL2NE" source="youtube" width="425″ height="344″ autoplay="no"]