Welcome to AggieCentral.com's live coverage of the CU Bentley Gardens formal dedication. AggieCentral editors were on scene to report the event — following is our report. Visit AggieCentral.com after the live event for video packages, podcasts and an in-depth story of the Gardens and what they mean to Cameron University.
12:30 p.m. – Dignitaries, students, faculty and staff begin to filter in as the dedication ceremonies are set to start.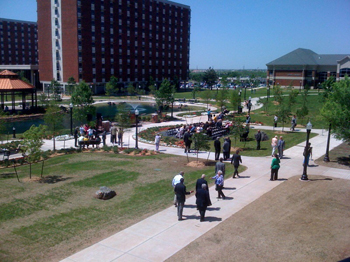 12:33 p.m. – Faculty, staff and students begin congregating around the main event areas as the ceremony begins.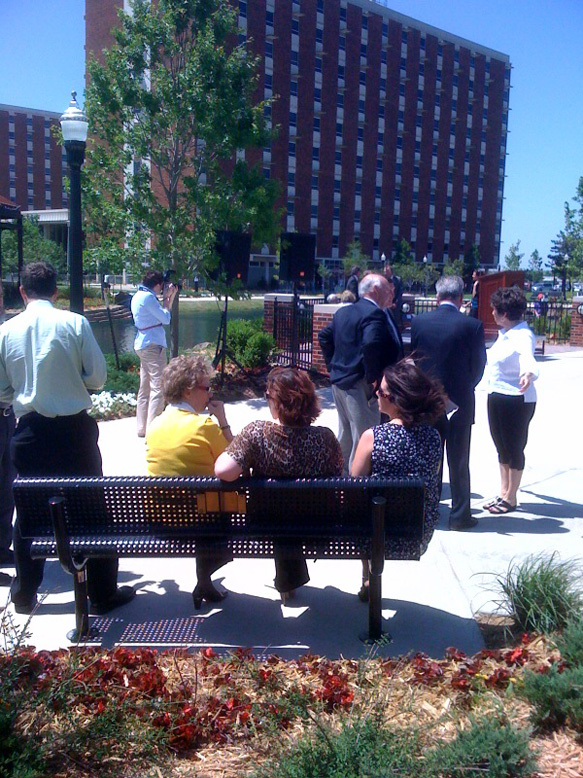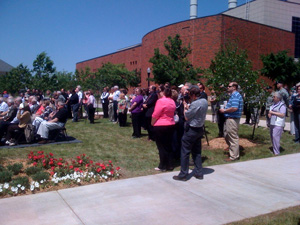 12:35 p.m. – President Ross has just started the dedication. More speakers to come. 12:38 p.m. –
Julianne moini is now set to take the podium as a student speaker for the dedication ceremony. Moini was proposed to in the garden last fall.
12:49 p.m. – Stephen Bentley begins speaking. The Bentleys contributed over $400,000.00 to the Gardens.
by Kyle Luetters
AggieCentral Staff
Cameron University dedicated another new campus landmark today in the Bentley Gardens. According to Cameron President Cindy Ross, the new gardens are the heart of campus, tying together the new business building, Shepler towers, Cameron Village and the new McMahon Centennial Complex (MAC). Ross opened the wind swept event at 12:30 p.m.
Other speakers included Oklahoma Board of Regents Chairman Larry Wade, Lawton Constitution Publisher and Garden donor Stephen Bentley and Cameron student Julianne Moini. According the Moini, the gardens will serve as a place for the students, faculty and staff to make memories.
"This summer when I am at my wedding reception in the new MCC, I will look out on these gardens and remember that these gardens is where my fiancé proposed to me."
After a short introduction from President Ross, Chairman Wade took the podium and discussed the link from generation to generation at Cameron.
"Ned Shepler served on the Board of Regents from 1945 to 1952. It is a great honor to say that his grandsons are continuing this tradition of great public service," Wade said.
The final speaker was Lawton Constitution co-publisher Stephen Bentley. Bentley and his brother Don contributed 400,000 dollars towards the construction of the Gardens.
"The newspaper is celebrating its 100 year anniversary this year," Bentley said. " My brother and I believe it is time to give back and what better place than Cameron University."
Once Bentley was finished speaking, over 150 students converged in a circle in the garden and released butterflies to close the ceremony.
Dedication Ceremony, Part 1
[vsw id="R6Ib2U0NTeI" source="youtube" width="425″ height="344″ autoplay="no"]
Dedication Ceremony, Part 2
[vsw id="Zb2tNYQrfSk" source="youtube" width="425″ height="344″ autoplay="no"]
Dedication Ceremony, Part 3
[vsw id="3E_lODT65DA" source="youtube" width="425″ height="344″ autoplay="no"]
State Regent Larry Wade
[vsw id="0Xunl49rjuY" source="youtube" width="425″ height="344″ autoplay="no"]
Donor and Publisher Steve Bentley
[vsw id="TuGN2_H47wo" source="youtube" width="425″ height="344″ autoplay="no"]