By Amanda Finch
Collegian Staff
The Student Government Association is hard at work to ensure that this semester is a successful one for the organization. Since January, there have been several pieces of legislation passed from the senators and representatives, including a piece asking for a direct deposit option for student workers and a piece requesting the fitness center to make tennis equipment available for students to check out.
As the semester progresses, the executive council officers reflect on their year in office and look forward to elections for next year's officers.
SGA President Daniel Brown is a senior graduating in May and is excited to see what students emerge to run for the office of President. Brown says it will be interesting to see how a new candidate plans to handle the responsibilities of running meetings and the duties that come along with the office.
"There is a lot of behind-the-scenes work that goes into getting ready for weekly SGA meetings and trying to get senators and representatives motivated to write legislation," Brown said.
Brown spends 12 to 15 hours working in the SGA office while balancing an 18-course load and two part-time jobs. The SGA president also has to be present at many university functions, such as donor events and gift announcements, and often meets with important guests visiting campus such as state representatives, senators and regents.
"As the president, I am often asked to speak on behalf of students at many events," Brown said.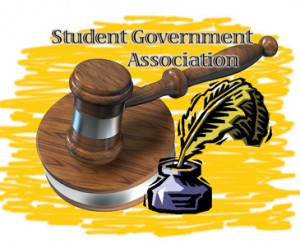 Brown believes a good candidate for SGA president should be able to delegate duties and responsibilities and stay well organized.
"Being organized and able to delegate is the key to being a good Vice President. You need to be supportive and helpful to the president and remember that you are there to help make decisions," Moini said.
Moini is also a senior who will be graduating in May. She has enjoyed working with the executive council and spending time in the office with the other officers. She is excited to see who will be running to take her place as Vice President.
"I am excited to pass down a little leadership to the new Vice President. I was prepared to serve because I have had past experience as the Secretary in the office, and the next person should be experienced and prepared to work many hours in the office outside of weekly meetings," Moini said.
Treasurer Elijah Morlett is a junior executive council officer who is thinking about running for executive council again and plans to be involved in SGA next year.
"We have a lot of students who would make qualified candidates for executive council so hopefully there will be a lot of campaigning and more students will be interested in our organization," Morlett said.
Morlett believes that students interested in running should be responsible and aware of what holding an executive council position means.
"As the Treasurer I am elected to work for and be the voice of students. Students count on me to be fair while dealing with finances and money that is meant to be distributed to student organizations," Morlett said.
All three officers agree that being a member of the executive council is a great experience and an opportunity to see the interworking facets of the university while serving in an important role as a student leader.
Filing for Student Government positions begins takes place March 9-31 and elections will be held April 6-7. In the meantime, Vice President Moini encourages students and organizations to write legislation for SGA.
"Writing legislation is a great way to come up with ideas to improve the university, and I am excited to see what legislation is brought up in the coming weeks," Moini said.