by Amanda Finch
Collegian Staff
The Cameron University administration has created a campaign to help raise funds to replace the hundreds of campus trees that were destroyed or damaged during the ice storm that took place in late January.
According to Vice President of University Advancement Albert Johnson, the campaign, "Replanting our Aggie Roots," is not an ongoing campaign but rather a one-time contribution in response to this campus emergency. If the trees are to have a chance to root and grow planting must be done between now and Arbor Day at the end of March.
"The purpose of the campaign is to try to ensure that we maintain the campus beautification efforts that we had already begun," Vice President Johnson said.
The ice storm left approximately 200 trees damaged or destroyed. A professional tree surgeon is being consulted to save as many trees as possible while ensuring the safety of those who pass beneath them, but it is clear that most will not be salvageable.  The cost of assessment, pruning, removal, planting and continued assessment through spring could total to around $300,000.
The campaign has reached out to those who have a connection to Cameron University including donors, alumni, faculty and staff to get involved and participate by donating to the campaign.
"We have been careful to be very cost-conscious about how we contact people for contributions, by using effective ways to reach out through mailings to off-campus supporters and emails to alumni, faculty and staff," Vice President Johnson said.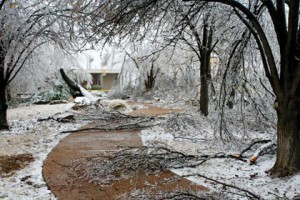 After appealing to these groups Vice President Johnson turned his attention to current students and organizations to encourage them to join in the fundraising effort. He spoke at the Student Government Association meeting, the Program Activities Council meeting, the Student Housing Association meeting and sent an email to all students to explain how important this campaign is. Vice President Johnson hopes that student organizations set donation goals and challenge each other.
"I am a 1979 graduate of Cameron, and I know what campus was then and see what it has become. It is hard to articulate in words, but when you see the transformation with your eyes you realize what a difference a tree makes," Vice President Johnson said.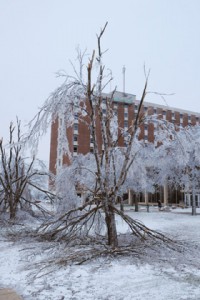 The campaign has already received an overwhelming response. Regent John Stewart donated $20,000 and the McMahon foundation contributed $10,000. Those contributions combined with the generosity of others equaled a total of around $50,000 before spring break.
"Every dollar we receive helps us defray the cost of planting and replacing trees. If every student attending Cameron University right now donated just one dollar, that would be huge," Vice President Johnson said.
Those wishing to give to the campaign can fill out a pledge card as an individual or with an organization. All donations should be taken to the Office of University Advancement in the Administration building or contacted at 581-2999.