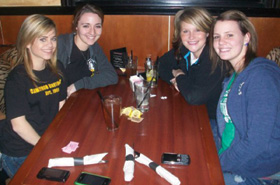 by Amanda Finch
Collegian Staff
A new group of 18 students have been chosen to serve as Aggie Ambassadors for 2010. As Aggie Ambassadors, the students will act as representatives of the university. The Aggie Ambassadors' primary responsibility is to plan, implement and conduct the new student orientations, known as Gold Rush.  They also conduct campus tours for prospective students and visitors and assist with a variety of official university functions.
The group is led by Coordinator of Prospective Student Services Frank Myers and Admissions Counselors Blake Red Elk, Kara Morris and Nate Todd. Red Elk, a graduate of Cameron University who served three years as an Aggie Ambassador and one year as president, knows exactly what it takes to serve as an ambassador.
"Students who make good ambassadors have exceptional interpersonal skills," Red Elk said. "They are able to think on their feet and not afraid to talk in front of people."
This year, the Admissions office received 50 applications. 30 students were chosen for interviews, and 11 new students were selected.
"When we select applicants, we choose those students who interview conversationally and are genuinely excited about Cameron," Red Elk said.
Freshman Public Relations major Lizzi Moini and Freshman Medical Technology major Jennifer Hofman are new Ambassadors who are enjoying the experience so far.
"My favorite part is meeting new people and telling them how great it is to come here and be an Aggie," Moini said.
"As an Aggie Ambassador, I feel more involved in school because I am able to bring more students to Cameron," Hoffman said.
The remaining seven students that were chosen are returners from last year. New Ambassadors are paired with returners who teach them how to give campus tours and help them succeed in the organization.
"I am most excited about seeing the returners become mentors to the new members," Red Elk said.
Mitchel Massie, who has been a member of the organization for the past two years, will serve as president with Jessica Kirk serving as vice-president and Toye Oyewole serving as secretary. Both girls are entering their second year of service as Aggie Ambassadors.
The Ambassadors were chosen at the beginning of the semester and have already been very active on campus. They recently attended the National Orientation Directors Association (NODA) regional conference for three days in Kansas City, Kansas. There, the students attended educational sessions where they learned how to network with other schools and share leadership experiences with students from a six state region.
"I had a lot of fun at NODA because our group had a chance to bond and take away ideas from other schools that we can implement at Cameron," Kirk said.
Freshmen, Sophomores and Juniors are eligible to apply to become Aggie Ambassadors and serve for one year terms.  Once selected as an Aggie Ambassador, students receive their choice of a $500 tuition waiver or a housing waiver, and they must maintain a GPA of at least 2.5.