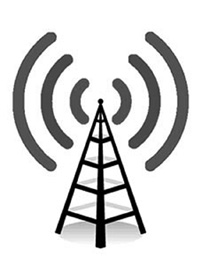 by Rachel Engel
Collegian Staff
At the recent Oklahoma Broadcasting Education Association student competition several Cameron University students received awards for their work produced in class, for student broadcasts and in the community.
Students from 15 universities across the state competed in over 30 different categories featuring radio and television, and were judged by industry professionals from throughout Oklahoma, according to the press release.
Assistant Professor of Communication Stephen Adams said it was good for the students to get some recognition.
"It looks good on the resume," he said. "They get to compete against larger programs who are doing 30 minute broadcasts; it's beneficial."
Senior Kyle Luetters won first place for Radio Aircheck and second place for Radio Newscast.
"DJ Aircheck is a shortened version of a regular radio shift," Luetters said. "Basically, I come out of the song, do my talking and then introduce the next song. For this award, they look at the DJ's personality and character on the air, and how that person tries to create excitement and entice the listeners to stay tuned to that station. It was actually one of my Monday afternoon shows from KLAW 101, so the piece that won the contest actually aired live."
Radio Newscast is a short check of the news, usually some local and regional happenings mixed with some national news, Luetters said.
"The newscast was actually part of a class I took in the fall called Broadcast News," he said. "It was a two minute newscast featuring Oklahoma news."
Competitions like this keeps him striving for perfection, Luetters said.
"I've learned the power of patience and attention to detail," he said. "The judges at these events really run our pieces through the ringer. They do this to ensure that we get as good as we can."
Junior Michael Faggett won second place with alumnus Cecilio Ramirez-Cibes for Television Sports Play-by-Play, which features two commentators ad-libbing and talking about a sporting event and the specific sport.
"I was covering the 2009 CU homecoming basketball game," Faggett said. "We were doing a three camera coverage of the game, which was a big deal for us at the time. Cecilio-Ramirez and I commented during the part of the game that we sent into the competition."
For Faggett, the recognition reinforces his decision to choose broadcasting as a profession.
"Winning an award like this puts it in perspective for me," he said. "It lets me know that I'm doing something right and others have taken notice. Professors at other universities, as well as professionals judge the competition, so to know that they see something in my abilities says a lot about my future in this field."
Other winners were Cameron Goss, who won first place in Television Entertainment, and Mitch Watson who won first place for Radio Hard News Story and third place for Radio Feature News Story. Jason Elbert won third place in Radio Entertainment.