Volleyball Opens Season 1-3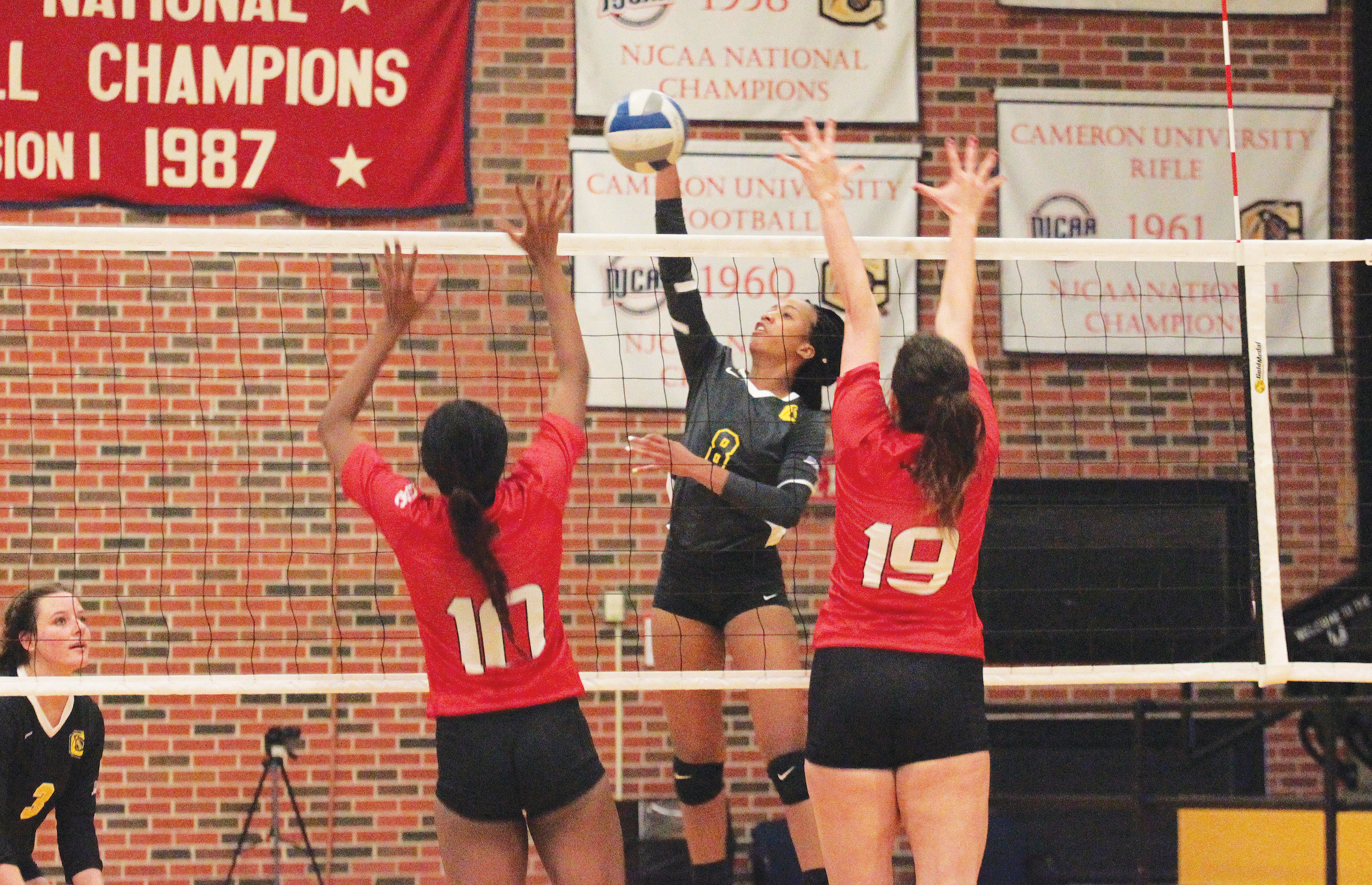 Ont he Ball: Junior Paige Dixon goes for an attack in a scrimmage versus Northwestern Oklahoma State. Dixon earned a spot on the South Central Classic All-Tournament team after tallying 54 kills during the Aggie's 1-3 opening weekend.
Krista Pylant
Sports Editor
@KristaPylant8
The Cameron volleyball team opened their 2017 season by going 1-3 at the South Central Classic on Sept. 1-2 in Durant, Okla.
On the first day of competition, the Aggies dropped their opening match 0-3 to Southern Nazarene but won the nightcap 3-1 over Southern Arkansas.
The victory marked head coach Tatiana Booth's first career win with the Black and Gold after she spent three seasons as the head coach at Vernon College.
"It was a good feeling," Booth said. "I was super excited going into the day because it's a new adventure.
"As soon as we got into the locker room everyone was all smiles and happy. I told them we like this feeling, and we need to continue to have it, but it still makes you eager for more."
However, CU could not close the following day versus Dallas Baptist and Ouachita Baptist as the Aggies dropped both of those contests in 2-3 decisions.
Despite the losses, Booth said she was impressed with her team's resilience after they played ten sets in four hours.
Booth said, "Our recovery and bounce back was one of the things that stood out to me the most."
Cameron started the invitational by falling in straight sets to last year's GAC tournament champion SNU 2518, 28-18, 25-23.
The Crimson Storm bested the Aggies at the service line with 13 aces. The Black and Gold tried to make up for it at the net with eight blocks to SNU's three but posted 11 kills fewer than the Savage Storm.
Of the Aggies' eight blocks, juniors Ashleigh McFatridge and Brandy Carr accounted for four each. Junior Paige Dixon led the offense with nine kills.
Against Southern Arkansas, CU captured their first victory of the season and fourth historical match in a row over the Muleriders.
Cameron tallied 14 kills in the first two sets, winning 25-19 and 25-16; however, SAU prevented the sweep with a 23-25 third set win after the Aggies hit just .069.
The Aggies came back in set four to win 25-22 with a match high 15 kills in the fourth and final set as Dixon led the charge again with 17 kills while Carr had 11 kills.
Senior Brook Conley tallied five aces and 16 assists.
In the final day of competition, CU fell in five sets in both of their matches but also notched 61 total team kills in each.
Cameron fell to Dallas Baptist 25-18, 25-23, 16-25, 21-25, 8-15 in a match riddled with errors. CU committed 30 errors and DBU had 27, helping the Patriots to narrowly escape the Aggies.
Sophomore Ania Keene knocked down a career high 18 kills entering her second season with the Aggies, meanwhile Dixon posted 16, and McFatridge also reached double digits with 11 kills.
Conley had 52 assists in the match, and junior Brittnee Altic had 26 digs.
In the nightcap, CU fell again in five sets to Ouachita Baptist 25-20, 22-25, 13-25, 25-14, 15-12.
Red-shirt junior Bristol Lewis led the offense with 13 kills, and McFatridge and Dixon followed up with 12 each.
Dixon's 12 kills marked her third match in a row in which she reached double figures in kills, and she knocked down 54 total during the weekend.
She also broke her career high kill record by three after her 17 kill match against SAU.
Dixon's performance during the invitational earned her a spot on the South Central Classic All-Tournament Team.
Booth said Dixon is currently the Aggies go-to player.
"Paige is just full of power, and she plays extremely smart," Booth said. "She's not going to be your loudest player vocally, but physically she is always going to perform."
Conley also posted big numbers as a setter, recording 96 assists on day two.
Booth previously coached Conley at Vernon College and said the senior is one of CU's biggest leaders on the floor.
"On the bus ride back I was looking at Brook's numbers, and this is probably one of her best opening weekends in all the years I have coached her," Booth said.
Altic followed up on defense with a match high 31 digs.
Next, the Aggies will play two matches at East Central before returning to Lawton on Sept. 12 for their home opener with USAO.
You may also like...