Wellness Center Books All Free Massages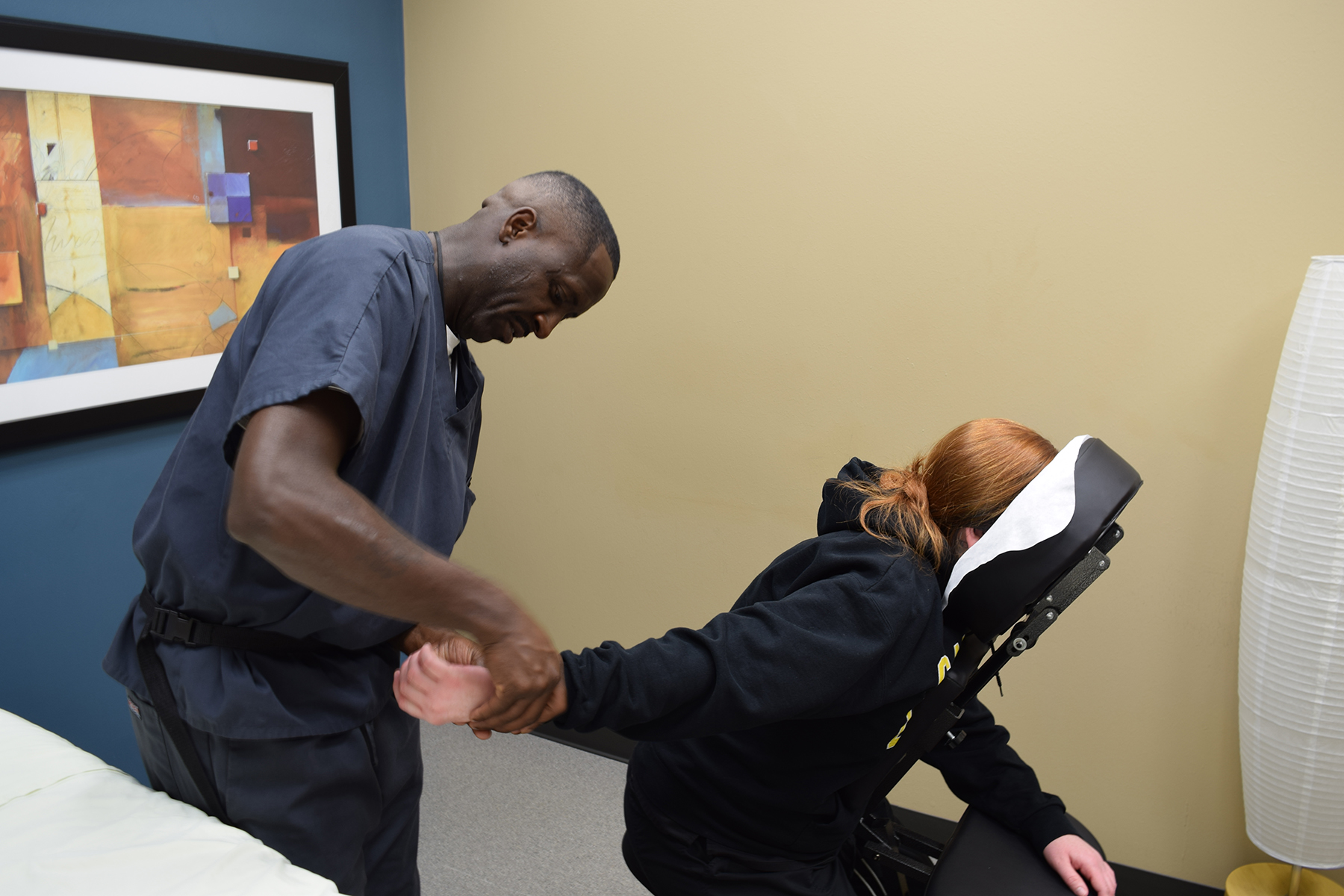 Pressure Points: Massage therapist-in-training Sean Robinson might be feeling stressed, himself, after his clinical hours were not only extended at the Wellness Center, but also completely booked through the end of the semester. Robinson interns via Platt College, giving up to 20 massages a week to students, faculty and staff.
Robert King
Staff Writer
The Health and Wellness Center has extended the free massages for students, faculty and staff until April 21.
The Wellness Center offers twenty-minute chair massages or fifty-minute table massages by appointment, but all available times are already booked.
Platt College student Sean Robinson provides the massages. He is doing his clinical hours as an intern at Cameron en route to becoming a massage therapist (MT).
He said there are many health benefits of getting a massage.
"It'll help reduce stress, lymphatic drain," Robinson said, "and it helps relax your body, opens your sinuses, helps muscle spasms and strains. It won't take away all your pain. but it'll help reduce it."
The different massage types have different benefits based on target areas. Chair massages relax arms, neck, head, shoulders and back. Meanwhile, table massages are full body massages where recipients lay face down, giving the masseuse the ability to target more areas.
Cameron Health and Wellness Center clinical supervisor Heather Taylor said that the free massages are very popular on campus.
"When [Robinson] first started here, we booked his first month in two days," she said. "When he extended to be here another month, I think it took a couple of days, but we're completely booked."
Taylor said that it is nice to have free massages on campus.
"If [Platt College] can send over a student willing to do their clinical here, then I think that it benefits the students, faculty and staff for work- or school-related stress," she said.
Robinson has at least 20 appointments in a week.
Taylor said that the free massages were extended because Robinson likes the environment at Cameron.
"Platt typically sends out their MTs the first month of their clinicals," she said, "and then the second month, they'll stay at Platt. They have a massage business there with massage tables, and clients from the community come in, but he [Robinson] opted to stay because he likes it here."
Taylor is also a senior Allied Health major who finds massages to be helpful when dealing with stress.
"Because of school, and life I experience stress," she said. "Also, because I have temporomandibular joint disorder and lymphedema, and so it helps with that."
The massages are free whenever a student is doing their clinicals. When there isn't a student doing clinicals, a licensed massage therapist does massages at a discount for students, faculty and staff.
Sophomore business major Lisa Windom felt very relaxed after her massage appointment.
"I never had one," she said. "I figured it would be a good experience."
Windom said that massages are great for college students.
"It helps you relax," she said. "If you can set aside a certain time in your schedule to have a massage, it gives you some stress-free time."
You may also like...