Softball Sweeps EMNU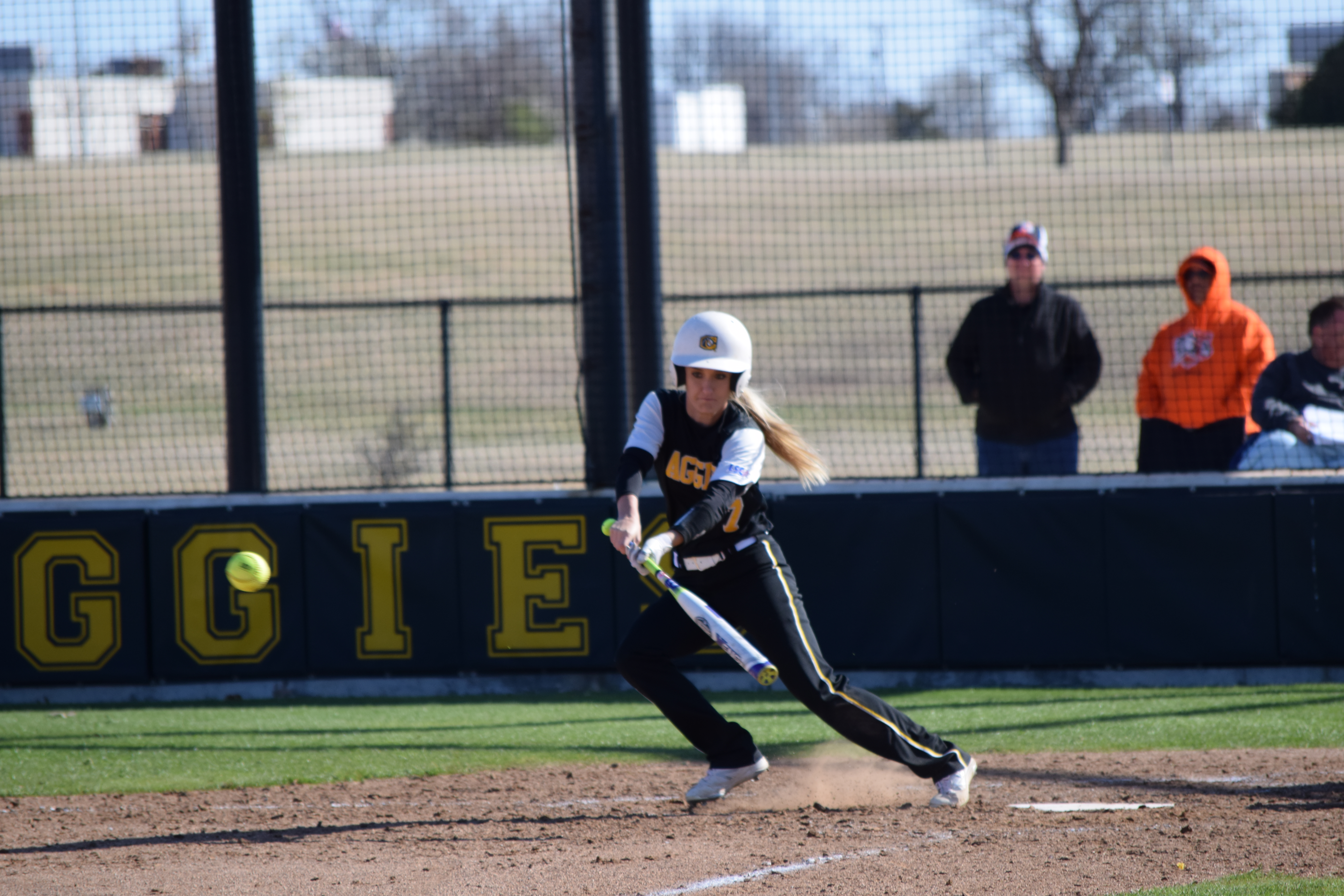 Taking cuts: Outfielder Kaylyn Smith makes a play during the Aggies' three-game series against Eastern New Mexico University. Cameron swept the Greyhounds on the weekend series, driving in 28 runs to take 12-3, 11-3 and 5-0 victories at home to bring their record to 28-13 on the season, 16-4 in conference play.
Markel Turrell
Staff Writer
Cameron softball got back to their winning ways with a sweep of Eastern New Mexico on April 7 and 8 in Portales.
After getting shutout in their last two games, the Aggies scored 28 total runs in the three-game series while giving up six. Seniors Breezy McComas and Paige Daino homered over the weekend, leaving both one long ball shy of breaking the school's career record.
Game 1
CU got the scoring started in the second inning with a couple of RBI hits from Bethany Hines and Brenna Busby to put the Aggies up 2-0. Eastern New Mexico answered back in the bottom of the frame with an Ashley Lopez single to left field. Kamalani Peneku got caught stealing on a double steal that scored Lopez.
The Aggies struck for three runs in the third. Daino hit a two-run home run, her ninth of the year, bringing home Kaylyn Smith in the process. A few batters later, Abbey Warren stole third then scored on a bad throw.
Cameron added three more runs in the fourth inning. Busby would double to left center, scoring Annie Combs. Callie Busby added to the lead with a single to right that brought home sister Brenna. Daino capped off the frame with a fly ball into a double play that drove in Smith.
The lead shrunk to 8-3 after four innings when ENMU's Samantha Brockman's RBI single. But the Aggies offense was not done yet.
Hines singled to left to drive in McComas. A few batters later, Brenna added to the lead with a two-run single that scored Hines and Warren for a 11-3 lead. The Aggies made it a 12-3 game after Brenna scored on a double steal with Smith.
Hines picked up her 20th win of the year after five innings allowing one earned run with a strikeout.
Game 2
The Aggies' strong offense and good pitching continued into the second matchup.
After a quick Greyhound run in the bottom of the first, the Aggies got back to scoring in the second inning. Hines tripled to right center, scoring Warren and Daino. Then pitcher Alyssa Osterdock brought home Bethany Hines on a single to right center.
Cameron tacked on another run in the third on a fielder's choice that scored Callie.
In the fourth inning, Combs would homer to straightaway center to give the Aggies a 5-1. Then McComas and Daino record back to back homers in the fifth inning. Combs added another big fly that inning, bringing home three to push the lead to 10-1.
Eastern New Mexico got two runs back in the bottom of the inning with a two-run homer.
Hines made it an 11-3 game on a single to right field, scoring Daino.
Osterdock took the win on the mound, pitching a complete game and allowing three runs with a pair of strikeouts.
The Aggies finished the doubleheader sweep with 23 runs scored, allowing the Greyhounds to score only six runs in the process.
Game 3
Hines led the Aggies' charge on the mound for an easy win.
All Cameron runs crossed the plate in a five-run fourth inning, all as a result of home runs. Callie broke a scoreless tie with a three-run big fly to center field, scoring Kaytlyn Kizarr and sister Brenna. Daino and McComas finished off the scoring with a pair of homers to tie them with Sonora Zuckerman and Leslie Martini for the Cameron career record of 43.
Hines followed up her previous day's performance with her 21st win of the season. She pitched a complete game shutout, giving up only four hits and three strikeouts.
The three weekend wins pushed the Aggies to a 28-13 record overall. They also improved to 16-4 in conference play, tied for West Texas A&M for second in the Lone Star Conference rankings. The Greyhounds dropped to 18-30 on the season overall, 10-14 in LSC play.
After a home series against WTAMU, Cameron hits the road to face off against Western New Mexico on April 21 and 22 in Silver City.
You may also like...