Fifth Season: Severe Weather Preparation Station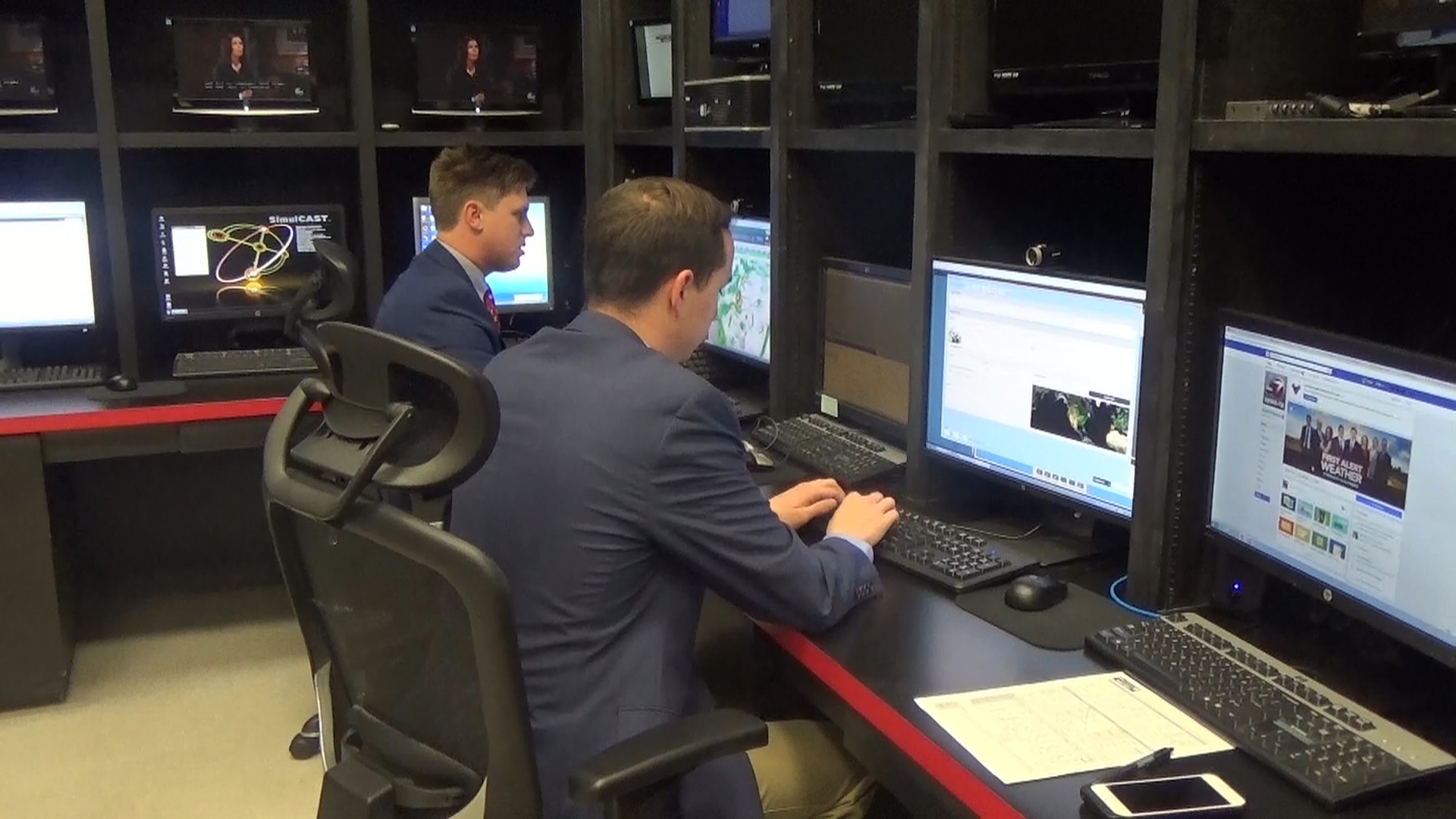 Preparing for Stormy Weather: KSWO-TV meteorologists take a look at the weather forecasts in preparation for the newscast. The team provides viewers with up-to-the-minute reports in the event of severe conditions prevalent in spring.
Haley Berry
Staff Writer
With severe weather being a common occurrence in Oklahoma, it is only proper to give this time of year its own title.
Weatherpeople call this pattern of high wind speeds, pea to softball size hail and tornadoes the "fifth season."
During this time of year, weather reporters in the Lawton area host events of the same name to help residents prepare for storms, gain weather awareness and generally know more about the climate and occurrences in this area.
Chief Meteorologist Austin Bowling of KSWO-TV said that weather awareness is important, especially in the fifth season.
"This is always an exciting time of year," Bowling said. "But everyone needs to do their part to make sure they are prepared for disasters brought on by severe weather."
Although spring-like weather can have its benefits, it often brings with it the fear of severe storms.
Bowling said he and his weather team work around the clock to track unexpected conditions throughout the state.
When there is potential of experiencing severe weather, such as quarter-sized hail, damaging winds or tornadic activity, Bowling said his team does all they can to notify the public as soon as possible.
"We're going to make sure that we're either pushing that out through Facebook, [we're] pushing that out through our First Alert 7 Weather app or we're going to be on the television here," Bowling said.
Bowling said he recommends having at least two ways of receiving weather alerts, such as television, radio, cell phone apps or social media.
When severe weather arises, it's important to be prepared to take necessary precautions.
This means having an emergency kit and knowing where to go when the sirens sound.
Bowling added some tips for finding a good place to take cover in the event of severe weather.
"Know what your safe spot is going to be," Bowling said. "That's usually going to be in the lowest level in your house, it's going to be an interior room, a closet, a bathroom, or pantry, and make sure that room doesn't have windows in it."
To ensure viewers understand this concept, Bowling and his weather team often use the acronym D.U.C.K.: Downstairs, Underneath something, in the Center part of the house and Keep away from windows.
Bowling also advised not to stop under an overpass if travelling when severe weather strikes.
"This is a popular trend when bad weather is taking place," Bowling said. "Studies have shown that taking shelter under and overpass does a lot more harm than good. Winds tend to be stronger and pose a risk to not only yourself, but other travelers that are trying to get out of the storm's path."
Following these simple guidelines and being prepared for whatever Oklahoma weather has to bring could save a life when the fifth season is in full force.
Tags CU NewsHaley Berry
You may also like...