Benefit Dinner Supports Service Dog Fundraiser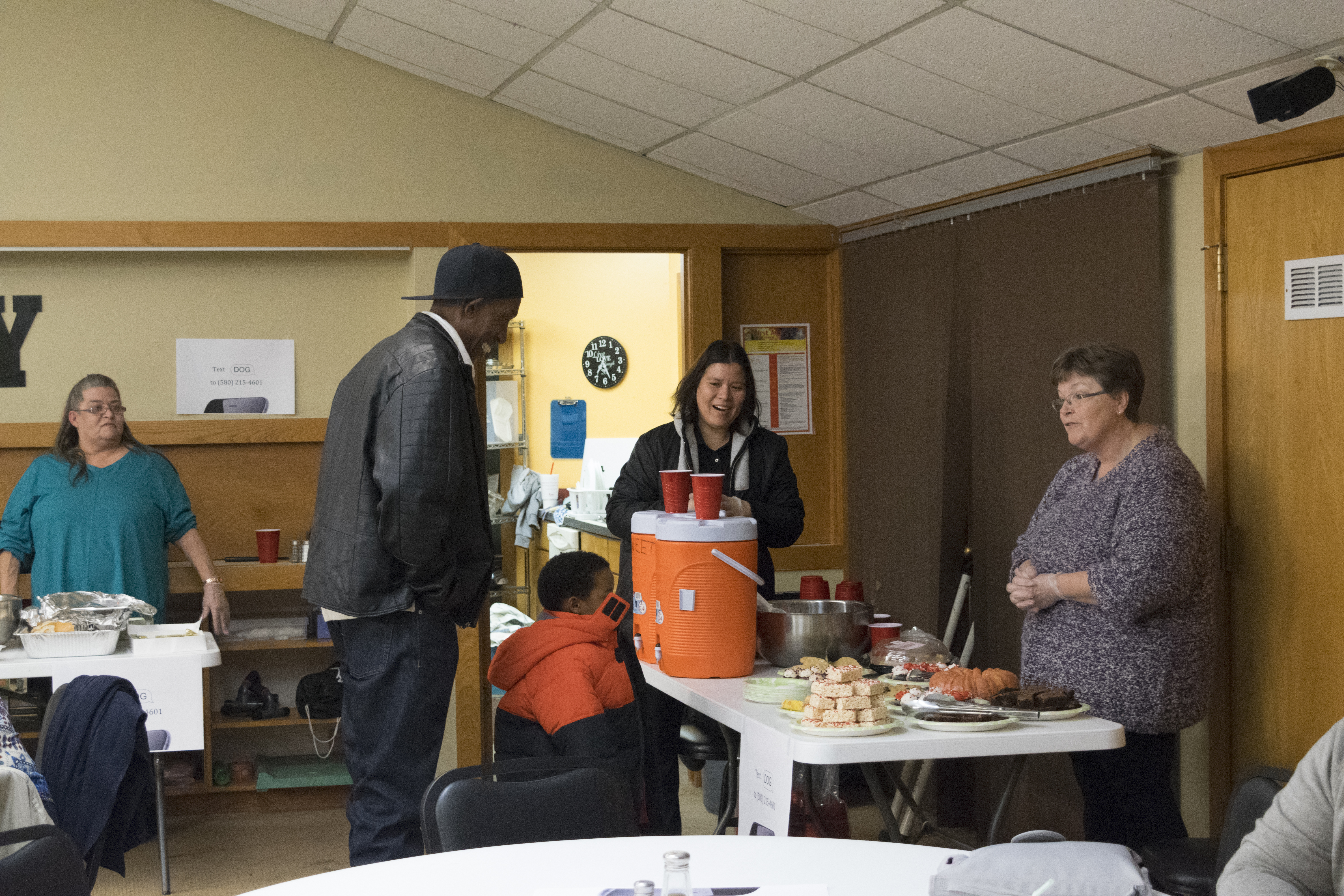 Serving for Service: Student Support Services staff members Cathleen Dutton (center) and Doreen Thomas take part in the Spaghetti Dinner Benefit on Jan. 26. Proceeds went toward Katherine Breig CU Freshman English major student's efforts to send her dog to a training school for service dogs.
Cheyenne Cole
A&E Page Editor
@cheyenneccole
Student Support Services (SSS), in conjunction with the CU Wesley Foundation, hosted a Spaghetti Dinner Benefit at 6 p.m. on Jan. 26 at the Wesley Foundation to raise money for a student who needs to send her dog to service training school.
In 2013, sophomore English education major Katherine Breig learned that she suffers from seizures, which were misdiagnosed as attention deficit disorder when she was a child.
Breig mostly suffers from absent seizures but has had convulsive grand mal seizures.
"Absent seizures are where you just blank out," she said. "You can be talking and just zone out. I'll snap to it, and I'll just continue talking to you like nothing happened.
"I also have the ones where you can talk to me, and I can hear you, I just don't understand what you're saying."
Breig said it isn't safe for her to drive, cook, or be alone in general, so her fiancé and her mother raised money to buy an Australian Shepherd, Teddy, with the intention of Teddy being trained to be Breig's service dog.
"It's to the point where I am scared to drive," she said. "I do drive. I go to school and home. I've never in my entire life been grocery shopping by myself. Ever."
Doreen Thomas, Director of SSS, said the goal of the benefit was to inform the community that Breig needs Teddy to be trained as a service dog and needs the funds to send him to GladWags.
When Breig, a member of SSS, told Thomas that it would cost $8,500 to send Teddy to GladWags, Thomas, along with other SSS staff members, felt determined to find a way to help Breig send Teddy to GladWags.
Thomas and SSS freshman guidance specialist Cathleen Dutton brainstormed until Dutton came up with the idea of a benefit dinner.
Breig said she was shocked that Thomas and Dutton would go to such lengths to help her.
"I just went to her [Thomas] and asked if she had any ideas," Breig said. "I didn't even know she was going to go all this way for me and do all this for me. I was beyond blown away."
If the money is raised, Teddy will attend GladWags, a service dog training school, for a year to learn how to sense when Breig is going to have a seizure and how to help her when it happens.
Breig will swab her mouth, and if Teddy smells a certain chemical that's emitted from the brain during a seizure on the swab, he will warn Breig that she is about to have one.
Before purchasing Teddy, Breig researched which dog breeds make the best service dogs based on their qualities and found that Australian Shepherds are loyal, focused and smart. She is confident that after going to GladWags, Teddy will be a great service dog.
"He's very intelligent," she said. "Everybody that sees him around me, they're like, 'He's gonna do it. He's going to make it. He is brilliant.'
"I have full confidence in him. He's a great dog."
Thomas said having a service dog who can alert Breig to possible seizures will take a huge weight off Breig's shoulders by giving her freedom to live her life without fear.
"If you've never walked in someone's shoes who has epilepsy," Thomas said, "things that we take for granted like going to the grocery store, being able to drive someplace without fear or being home by yourself – you don't think about those things but someone like Katherine, that's something that she always has to think about."
Thomas hopes Teddy will give Breig the confidence to continue her education and reach her career objectives.
"Her goal is to become an English teacher for high school," Thomas said, "and having this dog is going to take away some of her apprehension that she's going to have a seizure in class or at home."
When students see Teddy or any other service dogs on campus, they should ask the owner before petting the dog to avoid setting back the service dog's training.
To donate to send Teddy to GladWags, go to gladwagsservicedogs.com, click "Support Us," then "Donate," and specify that the donation is for Katherine Breig.
You may also like...