Villanova Wildcats on Quest to Repeat as Champs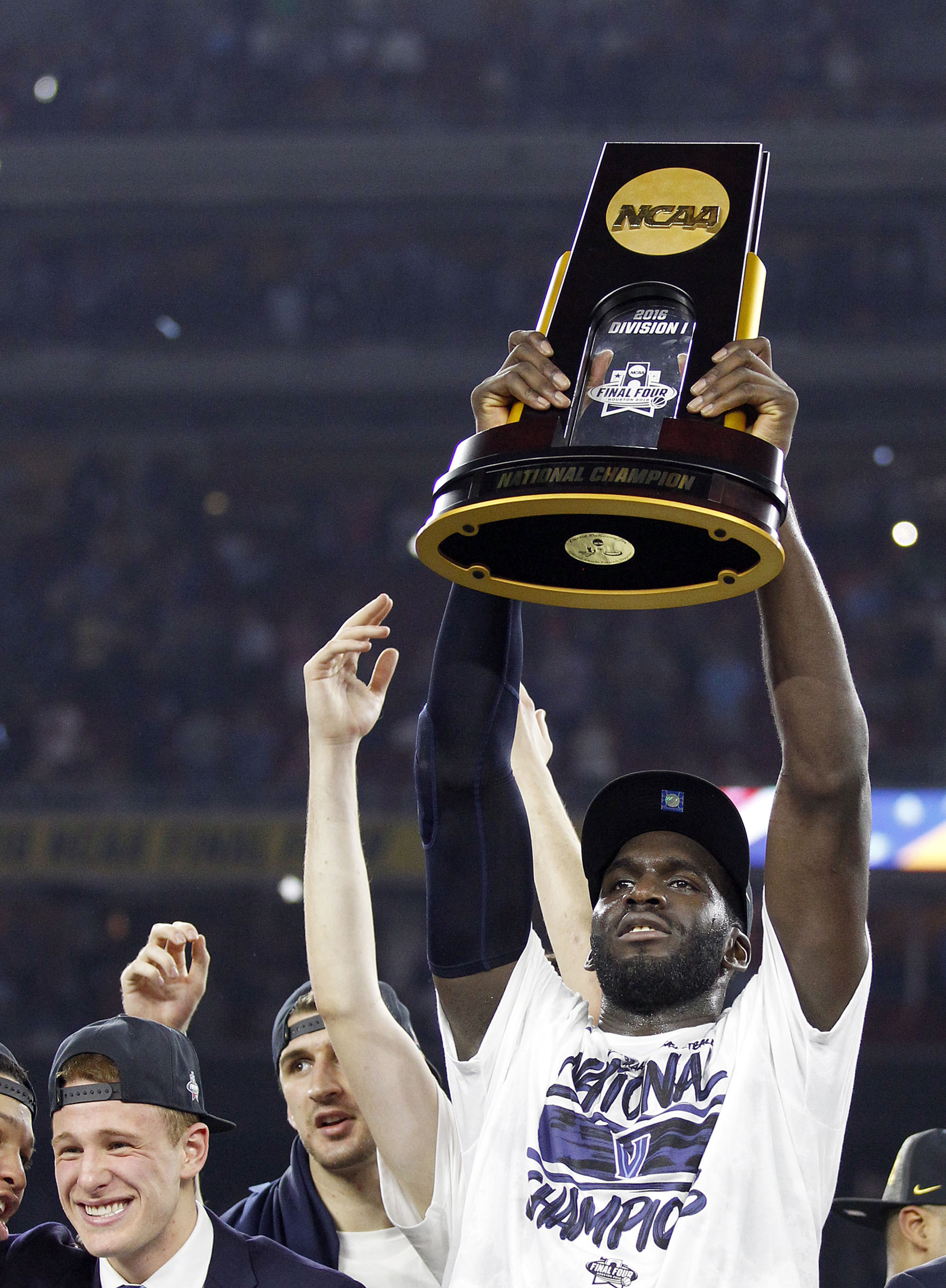 Villanova's Daniel Ochefu celebrates holding the National Championship trophy on Monday, April 4, 2016, at NRG Stadium in Houston.
Tribune News Service
The last time we saw two college basketball teams compete, it was one of the most epic championship games ever played.
The last time a player took a shot that counted, it was the ball slipping off Kris Jenkins' fingertips in Houston to deliver a 3-pointer that beat the buzzer and North Carolina and brought Villanova its first NCAA title since 1985.
It will be hard to follow up on that send-off to the 2015-16 season, but 2016-17 has some intrigue. From Villanova's quest to repeat to Duke's expectations to another strong young class at Kentucky, drama should be plentiful.
Here are some storylines to follow as the season tips off Friday.
Youth movement:
Last season was the time to appreciate the elder statesmen of college basketball. It's almost a rarity now, but seniors ruled most arenas.
It's back to the new norm. Freshmen are the kings of the court again. Several of the teams projected to contend for the NCAA championship feature freshmen who probably won't be around for more than one season.
The player drawing the earliest NBA draft buzz for next season is on a team that might not even make the NCAA tournament. Washington's Markelle Fultz, a 6-foot-4 guard, is expected to sizzle even if the Huskies might not.
He's not alone as a freshman standout. Duke forwards Harry Giles (knee surgery) and Jayson Tatum (foot) are coming off injuries but expected to make an impact, along with point guard Frank Jackson, for the top-ranked Blue Devils.
No. 2 Kentucky, as usual, has reloaded with four top-15 recruits in point guard De'Aaron Fox, big men Bam Adebayo and Wenyen Gabriel and shooting guard Malik Monk. Kansas forward Josh Jackson and Michigan State forward Miles Bridges also should be immediate difference makers.
Repeat performance?
Villanova isn't a college basketball blue blood, but the Wildcats have the ingredients to become a rare back-to-back champion.
Three starters return from the title team as well as three key reserves. Sophomore point guard Jalen Brunson of Stevenson needs to continue to progress _ rapidly _ now that he must replace veteran leader Ryan Arcidiacano full time.
On paper, there are better teams than Villanova. But we said that for much of last season, too, before realizing the Wildcats' potential.
No names to household names:
Every year there's a Doug McDermott type who emerges into stardom from the shadows of mid-major life.
Valparaiso's Alec Peters, a 6-9 forward, was tempted by the NBA draft but decided to return for a final season under new coach Matt Lottich. He averaged 18.4 points and 8.5 rebounds last season, and his presence as one of the nation's best big men makes the Crusaders a favorite to win the Horizon League.
At Wichita State, Ron Baker and Fred VanVleet are gone. Next man up? Meet Markis McDuffie. The 6-8 sophomore forward averaged 7.4 points and 3.3 rebounds in 18.5 minutes per game as a freshman. He'll be asked to do much more.
Delivery date?
Kentucky is ever-present in the national title hunt, reaching the Final Four in four of the last six seasons, but the Wildcats won it all only in 2012 during that span.
They will go back to their old formula of freshman phenoms after having some relative experience last season, when Indiana toppled them in the second round.
With so much talent – the incoming recruiting class was ranked No. 1 nationally with five of six in ESPN's top 100 – it's championship or bust, as always, for John Calipari's team.
Tags Aggie Sports
You may also like...