Broader Horizons: Cultures Merge at Student Scholarship Banquet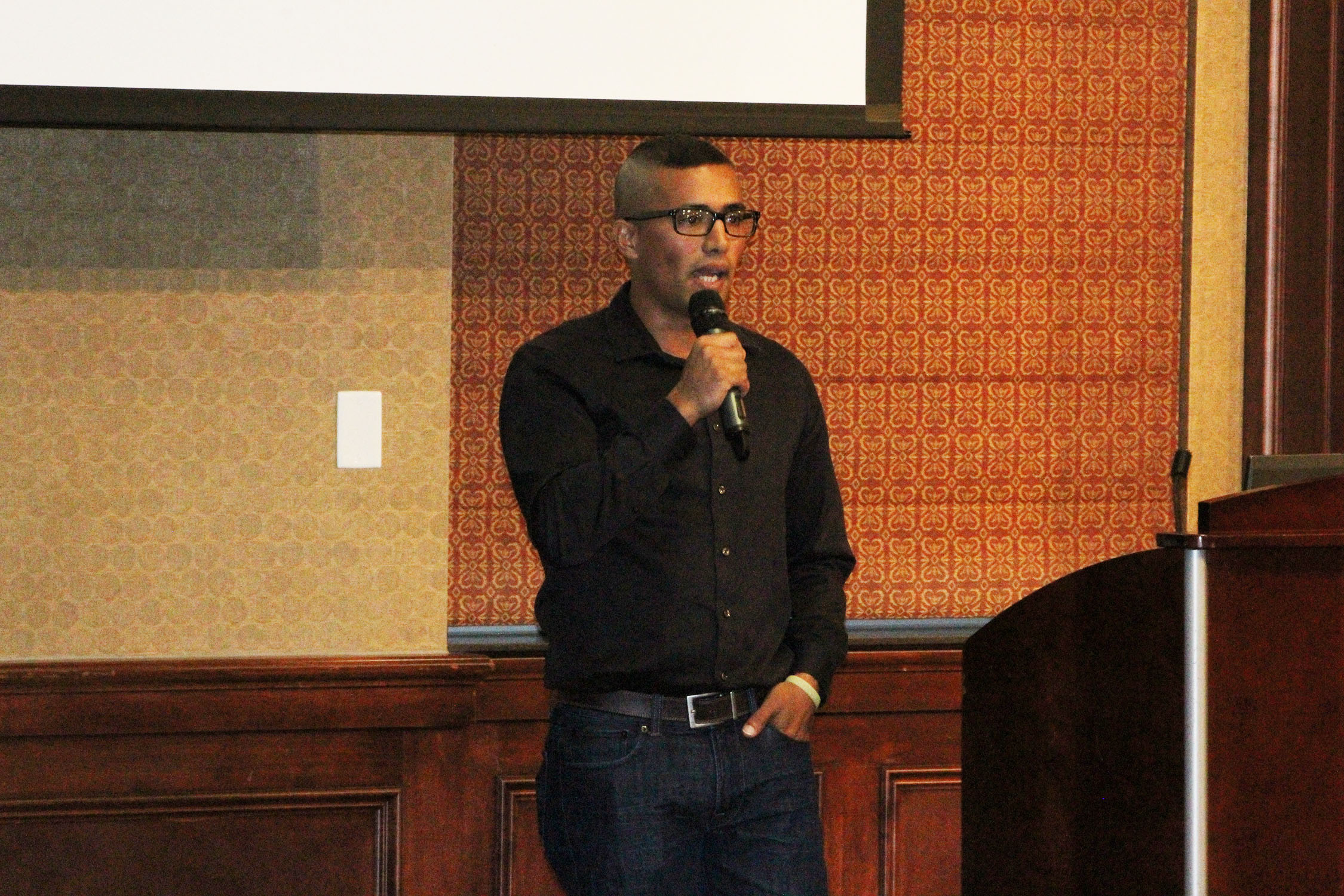 International Alumnus: CU graduate Jeewan Bhattarai shared his struggle as an international student and advised current students to keep their spirits up.
Cheyenne Cole
Staff Writer
The Cameron University International Club (CUIC) hosted the ninth annual International Student Scholarship Banquet at 6 p.m., Oct. 7, in the McCasland Ballroom.
The banquet featured a guest speaker presentation, a dinner of traditional dishes from various countries, American and Nepali song performances, Nepali, Nigerian and Hawaiian dance performances, a skit performance and a silent auction.
Senior business administration major and CUIC President Rose Bataa said the banquet is important because international students are not eligible for many U.S. scholarships and rely mostly on the funds made from the silent auction for scholarships.
"I am completely blown away," Bataa said. "We did not expect it to go so well. We risked everything for this. We put everything on hold to make this one of the best banquets ever, so I think it's the hard work and dedication that made this event have a big turnout."
Bataa's favorite aspect of the banquet was the entertainment.
"I loved the performances," Bataa said. "They were very diverse. The performers are my friends, so as soon as I heard we were going to do the banquet, I let them know that they could show their talent and represent their culture on a bigger platform."
Guest speaker and CU alumnus Jeewan Raj Bhattarai discussed his experiences and the challenges he faced as an international student from Nepal at the banquet.
Bhattarai said when he first came to Cameron as a student, he was excited, but he shortly experienced a culture shock and the sadness, loneliness and frustration that came along with it.
His advice to international students was to have a sense of humor and to ask for help if needed.
International student from Nepal and senior biology major Ujjwol Khatri attended the banquet and cooked a traditional Nepali potato and cauliflower dish for the banquet.
Khatri said after being busy all semester long, the banquet is a fun way to spend an evening.
"It's like getting together with all your friends and getting the chance to eat food from different countries and actually see them singing and dancing right in front of your eyes," Khatri said. "It's a wonderful experience."
Khatri said he enjoys seeing people try authentic Nepali dishes, even if the spicy foods are a change to American taste buds.
"We get the chance to eat American food," Khatri said, "and I think they should also have the chance to see how our food tastes."
Khatri said events like the banquet and India Night and living with his Nepalese roommates who take turns cooking traditional Nepali meals keep him from feeling homesick.
Associate Professor and Director of Composition William Carney is the faculty adviser of the International Club and said as the son of two immigrants, the club is very meaningful to him.
Carney said the banquet helps American students and international students relate to and understand each other and provides scholarship funds for international students who do not qualify for financial aid and many U.S. scholarships.
"They [international students] bring a little bit of their country and their culture to the campus community," Carney said. "It enriches us. It's educational, and a lot of our students would never have the opportunity to meet someone from another country. Now they do, so it broadens them."
Carney said he thinks international students sometimes feel left out, so bringing back a successful alumnus like Bhattarai to speak at the banquet helps to encourage the students.
For more information about CUIC, visit the CU International Club Facebook, call William Carney at (580) 581-2928 or email wcarney@cameron.edu.
You may also like...