Bringing Home the Gold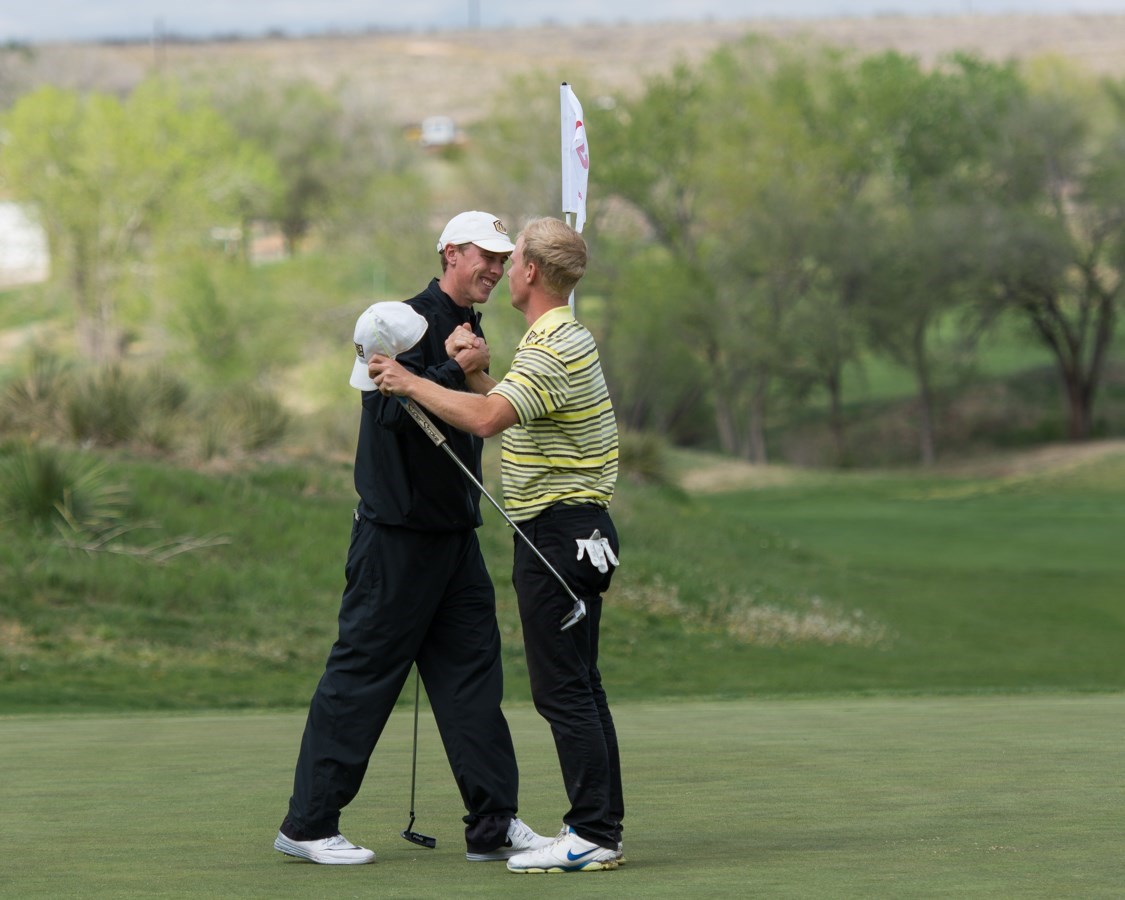 Three's Company: Cameron golfer's Cullen Stahl (left) and Daniel Nielsen celebrate after a successful hole during tournament play. As a whole, the pair helped the Aggies earn their third-consecutive Lone Star Conference golf championship, their fourth in five years. The Black and Gold defeated rival Midwestern State 3-1-1 in match play for the win.
Jacob Jardel
Sports Editor
@JJardel_Writing
The Cameron University men's golf team recently took home a number of year-end awards leading up to the regional tournaments in early May.
On top of a team conference title, three individual players and the head coach all earned honors for their performances over the season.
Cameron Takes Title
The Aggies wrapped up their Lone Star Conference slate with two commanding wins to take the conference championship on Apr. 18 and 19 in Amarillo.
This title marks the third consecutive men's golf title for the Black and Gold, who performed the first three-peat since Northeastern State accomplished the feat between 2005 and 2007. This was also CU's fourth title in the last five championships.
Head coach Jerry Hrnciar said that this string of success acts as a statement for other teams.
"Winning the last three titles in a row really legitimizes the program," he said in a press release. "It wasn't just luck that got us here."
He commended the team's performance throughout the tournament.
"I told the team that we have the deepest team here," he said, "and in match play we really played well."
After shifting the title to Amarillo from Frisco, Texas, because of severe rain, the top-seeded Aggies faced off in a semifinal match against Texas A&M-Commerce. Cameron took all five individual pairings from the Lions in the matchup, winning each set by more than two strokes.
Sophomore Daniel Nielsen won his matchup with a tournament-low 72, three strokes better than his opponent. Seniors Zander Winston and Cullen Stahl both carded scores of 73, winning by two and four strokes against their respective opponents.
Sophomore Weston Ward defeated his opponent by six shots, carding a 74 on the day. Freshman Dario Gabriel rounded out the Cameron effort with a 75, finishing four strokes ahead of his Commerce opponent.
The following day featured a round against rival Midwestern State, in which the Aggies took three of the five matchups in their 3-1-1 title-clinching win.
Hrnciar said that he thought the team's play was a sign of future postseason success.
"This was one of our best showings of the spring," he said, "and sets things in motion for the NCAA Super Regional."
Nielsen finished as the overall leader after defeating Stahl in a one-hole playoff after tying at 142 for the tournament. The sophomore finished with a second-round 70, ten strokes better than his MSU opponent. Stahl tied with his opponent after carding a 69 on the day.
Gabriel defeated his opponent by six strokes, carding another 75 to finish in tied for tenth with a score of 150. Ward gained the team's third win by one shot, carding a 72 for a two-round total of 146. He finished tied for fourth individually.
Winston rounded out the Cameron scores with a second-round 76 after falling by six shots to his opponent. He closed the tournament tied for ninth with a score of 149.
Stahl, Nielsen and Ward finished in the All-Tournament Team with top-five scores.
Cameron hits the links next at the NCAA West/South Central Super Regional May 2-4 in Amarillo.
Aggies Earn Honors
Hrnciar, Stahl, Nilsen and Winston each earned postseason honors when the Lone Star Conference revealed their postseason honors before the LSC tournament.
Hrnciar won coach of the year for the 2015-2016 season after leading his team to four top-five finishes this season. It was the fourth consecutive time he won the award, his ninth overall in his career.
Nielsen ended the regular season earning LSC Player of the Year and Newcomer of the Year after carding a 72.55 scoring average and finishing runner-up in two tournaments on the season. He is the first Aggie golfer to earn either award.
Nilsen also received his first nomination to the All-LSC first team along with Winston and Stahl.
Winston received a first-team nod a year after an All-LSC second team spot last season. Stahl earned his third first team nomination to go along with a placement on the 2013 All-LSC freshman team.
Jared Baker and Thomas Smith from Midwestern State rounded out the first team.
You may also like...