Aggies buck Mustangs, Snap Losing Streak against MSU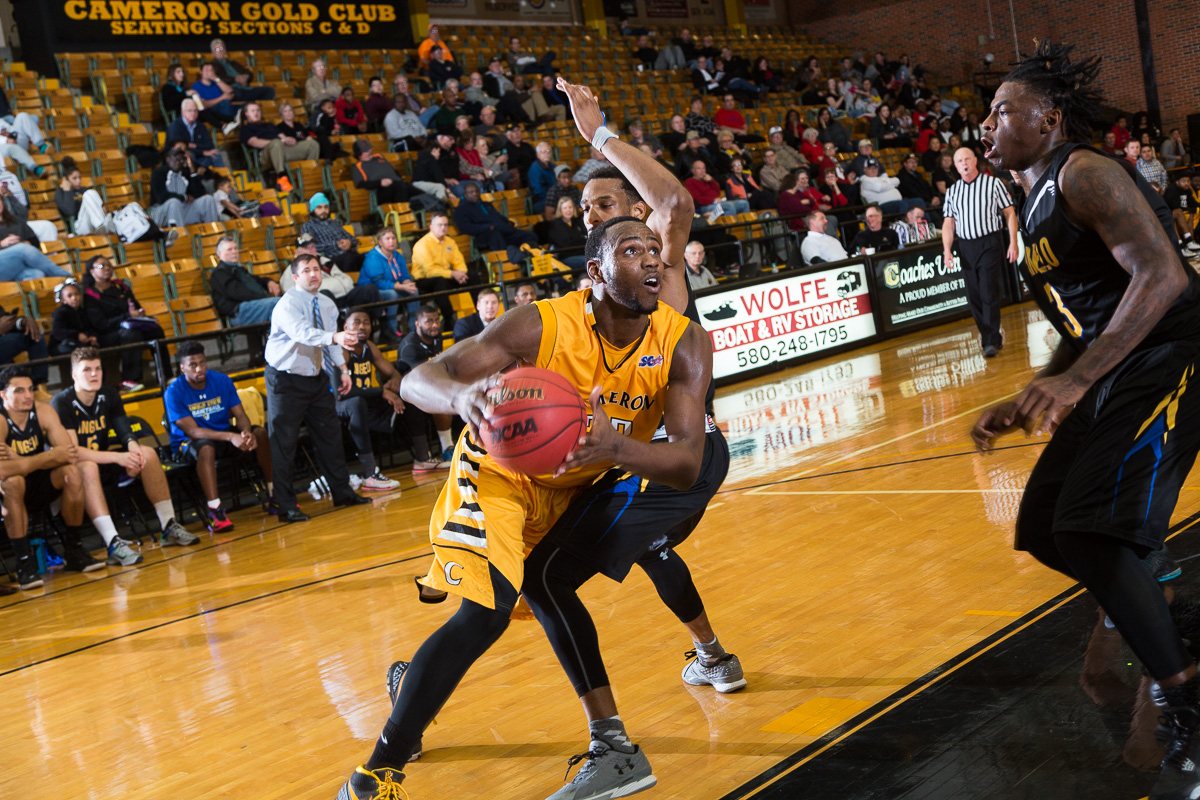 Giving them the Axe: Senior forward Jamaal Brantley drives to the basket. The Aggies defeated Midwestern State 80-75 on Jan. 30, marking Cameron's first win against the Mustangs since 1990 and putting the Black and Gold atop the LSC standings.
Cristina Soriano
Staff Writer
Cameron University's strong defense paved the way for their 75-80 victory over Midwestern State University Jan. 30.
This win brought the Aggies to the top of the Lone Star Conference at 6-2.
After the game, senior guard Cameron Lee celebrated the record-breaking victory against MSU, ending a string of losses beginning in 1990.
"It feels great not only for our team to snap the losing streak at Midwestern," Lee said, "but also claim first place in conference."
Deondre Ray led the Aggies with career high 23 points and 7 boards. Other Aggies with double figures were Jamaal Brantley with 15 points and 8 rebounds, JV Long with 12 points, and Lee with 11 points.
The Black and Gold started the game with high intensity, which put them ahead for the entire first half. Cameron set its own pace, making it difficult for the Mustangs' transition defense.
The first half ended 36-41 with CU's field goal percentage at 56 percent and the Mustangs' at 38 percent.
Coming back from the locker room, MSU took the lead for the first time in the game. Ray replied with a fast three to keep the score close at 48-46.
The Mustangs kept pressing Cameron with threes by Bretson McNeal, who hit five from behind the arc on the night.
Long nabbed the ball and drove up the court on a fast break for three consecutive layups to open a six-point lead for the Aggies.
With just over a minute to go, the Mustangs started pressing full court and caused some turnovers. MSU capitalized on the possession errors with back-to-back threes, while Cameron missed free throws for a late, unanswered nine-point run.
But with 10 seconds to finish, Delvonte Pierre hit two last free throws to give the win to the Aggies against their big rival.
CU head coach Nate Gamet recognized the effort of the Mustangs and the Aggies' ability to control the game.
"MSU had some great defensive possessions, and our guys just stepped up and made some shots in big situations," Gamet said. "We were able to control the pace of the game and did a good job limiting their very talented post players."
Next, Cameron will face Texas A&M Commerce at 7:30 p.m. Feb. 3 at Commerce, Texas.
You may also like...