Lady Aggies welcome Williams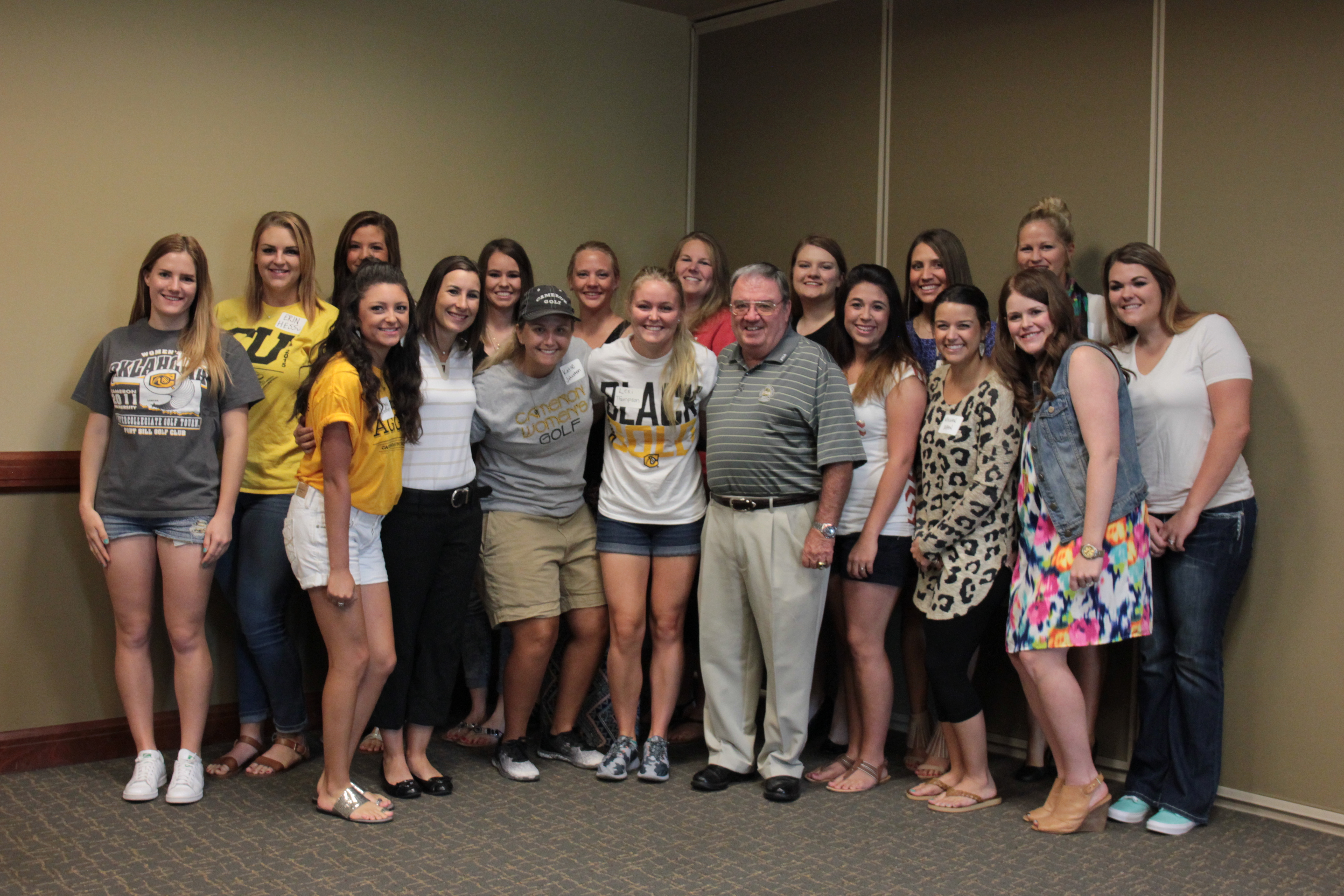 Members of the CU Women's Golf Team past and present pose with new Head Coach Christi Williams (front row, second from left) during a women's golf reunion. Williams is starting her first season as coach of the Lady Aggies after helping Western Texas College achieve national recognition.
Jacob Jardel
Sports Editor
@JJardel_Writing
Whether on the course or off, Head Women's Golf Coach Christi Williams' philosophy focuses on one overarching concept: good communication.
This communication with others and within herself has led her to success both as a golfer in high school and college and as head coach for both men's and women's teams at Western Texas College. In turn, this success has led her to Cameron.
For Williams, the precedent of her predecessor made this progression a natural one.
"Rick Goodwin's already established such a great program, and I really felt like I could come in here and continue to expand on that," she said, "bring in some great recruits and hopefully get us in the Top 25 in Division II and hopefully in contention for a conference championship."
However, she said she plans to make a mark in her own way with the Black and Gold this year. She added that Cameron is heading in the right direction for success on the greens and fairways.
"We have access to three great golf courses," Williams said. "We have our on-campus driving range and our soon-to-be indoor facility being built. … We have all the tools we need to practice [any situation]."
It has been those numerous situations she has experienced in her career that has made communication vital to her success – whether the everyday demands of a student athlete or two shoulder surgeries that took away almost half of her eligibility years.
"That time is a blessing in disguise because I got my chance at coaching," Williams said. "I would stay and practice with my team, help them with their swings. I would travel to tournaments with them and kind of shadow my coach around and get to know other coaches.
"When I went back to playing my senior year, I had a totally different mindset on what it takes to be successful," she said.
These experiences finding the diamond in the rough have helped Williams stress the mental aspect of the game to her players. She asks them questions as they practice to get them in the swing of providing their own feedback as the game goes on.
"If you can just get the confidence and teach them … if they have a bad hole, they know how to fix their mistake and just play very level headed, I think it's really good," she said.
This formula of confidence and feedback goes back to Williams' communication-heavy style of coaching. According to her, success is hard to come by without that connection.
"If a coach and a player are not on the same page communication-wise, there's going to be a total disconnection," she said. "You've got to get to know your athlete."
Williams said she set her expectations from the start and wanted to focus on the short game and the up-and-down game. However, the communication she has with her athletes was the overall aim of her first year in Black and Gold – whether on or off the course.
In short, Williams wants her team to know that they have someone there for them at all times.
"I'm really big in trying to maintain a family atmosphere on the team," Williams said, "because the majority of them are several hours from home. You get to know your teammates, and they get to be your family."
With a family atmosphere, the success from last year and a focus on communication, Williams said she was excited to see what the new season has to offer the Lady Aggies.
"I'm just excited to see if we can continue to build and try to be in contention for a Lone Star Conference championship," she said. "I've already enjoyed this first week of practice. I want to really push their boundaries and push their potential, just see how many goals we can set."
Beyond the season, Williams just wants to use her success and the communicative attitude to help tee up her team for life outside the driving range.
"If I could teach them how to do that and make this an easy enjoyable period, and they can feel confident and ready to step into the real world, I think I've done my job well," Williams said.
You may also like...