Huston brings championship goals to field, dugout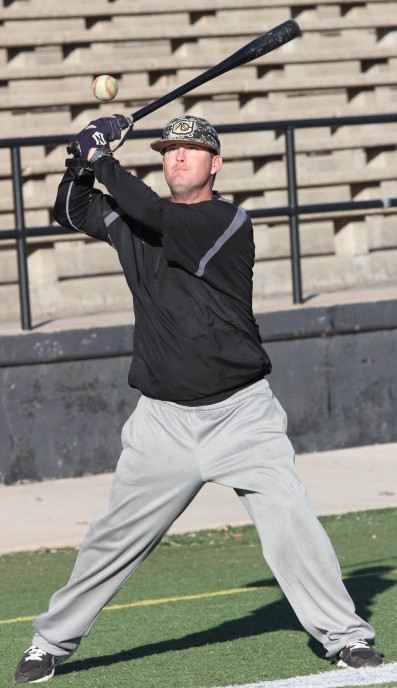 Jacob Jardel
Assistant Managing Editor
@JJardel_Writing
Aggie fans catching a baseball game at McCord Field will notice a new face starting his first season on the bench as head coach.
But Brady Huston's time in the dugout goes back to a time before he graced the Cameron pine. Baseball was a family affair for Huston, who credits two people for his love of the game.
"I grew up watching the game, playing the game at an early age," he said. "My grandfather was a big influence on that, as was my dad. I don't know what it was that separated baseball from football or basketball or soccer or anything like that. It was just the thing that I fell in love with."
A Texas native, Huston has a place in his heart not only for the Texas Rangers but also for the New York Yankees, citing his favorite players as former Yankees first baseman Lou Gehrig and former Rangers catcher Ivan "Pudge" Rodriguez.
But his love for the game was not limited to a spectator's role for teams in the majors. He took to the game just as early as he took to watching it.
"I started when I was five," Huston said. "I played all over the diamond, I played everything."
During high school, he roamed the diamonds of Burkburnett, Texas, where he played until he tore his labrum his final year there. He played some college ball and eventually transferred to Texas Tech University before making his way to front office positions.
"I worked in Triple-A for the Florida Marlins affiliate in Albuquerque, N.M.," Huston said. "I worked in the front office, did some GM type stuff in the baseball operations realm."
However, as his career progressed, he felt there was more he could do with grass beneath his cleats than behind a desk. With that revelation, Huston laced up his cleats once more – this time in a coaching capacity.
"I liked the nuances of the game, the strategy of the game," he said. "I liked the in-office, but I really felt like I just needed to be back on the field."
Huston started his coaching career at Sul Ross State University in Alpine, Texas. He moved on to Wharton County Junior College for a year and a half before he followed the chalk to a bigger opportunity.
"I was fortunate to get the job at Seminole Junior College," he said, "[a] tradition-rich junior college there – over 180 guys drafted out of there to play pro ball."
He spent three years at Seminole before he felt the need to change. It was around that time when former Aggie Baseball Coach Todd Holland contacted Huston about an opening at the assistant coach position.
"When the spot opened, Coach Holland actually called me out of nowhere and asked me if I'd be interested," Huston said. "I told him I would talked to my wife and see what we thought. We came for the interview and thought it would be a good fit, and here I am."
One of the reasons Huston took the job was it offered him what he felt like a necessary opportunity to swing for the fences.
"I knew that I wanted to be a head coach, and I felt like I did what I needed to do at the junior college level as an assistant," he said. "The one thing I didn't really have was four-year experience."
After a year of experience, Huston has noted the transition from junior college to Cameron has become easier, especially now that he is settling in after a year on the road recruiting.
"I think this year it's been easier," he said. "I think the people are welcoming with open arms, and the community has been great to us from a fundraising standpoint. So far, it's been good."
Huston has taken this positive momentum to add his own philosophy to how the Aggie student athletes approach both aspects of their college careers.
"We just want to be a champion in everything we do – on the field and in the classroom," he said.
After a season where the team accomplished its highest GPA in history, he wanted to instill this championship attitude in the players – especially on the field, since the Black and Gold have seen a recent slump the last few seasons.
"The last couple of years, we haven't won very many games," Huston said, "and that's a mindset, really. If you set the expectations, guys have something to shoot for.
"Our expectations are just to try and play as well as possible every day. It's going to be very difficult to win every game. If we put our guys in a position to be successful and stay healthy, I think we have a chance."
Huston's philosophy also focused on one aspect of the game that happens beyond the warning track – fan support for the Cameron Nine.
"I know we play this game in a weird time during the season," he said. "It might be 50 degrees, it might be rain, it might be snow – it's something. But Cameron baseball exists. It's not really about me. It's about us as a group. Just come out and support us – we could use it."
Tags Jacob Jardel
You may also like...
Sorry - Comments are closed