Stomp to the beat of Spring Break at Medicine Park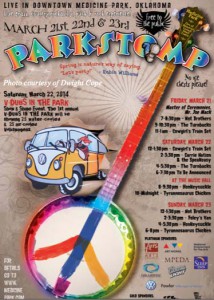 Sadie Jones
A&E Editor
Medicine Park's fourth annual three-day concert festival — Park Stomp — will begin March 21 at 7 p.m. and continue through Saturday and Sunday of Spring Break weekend. Starting 7 p.m. that Friday, the cobblestone community will be home to bluegrass, country and rockabilly music. Throughout the festival, visitors will have the chance to experience Medicine Park during intermissions. The event is free and open to the public.
Sponsored by the Medicine Park Economic Development Authority, the concert will feature 13 acts at closed and open-air venues.
The bands will be playing outside on the main stage — but only until sunset. Once it is dark, the concert will move to the Medicine Park Music Hall.
Mayor of Medicine Park Dwight Cope said the event is bluegrass oriented.
"It's not your grandfather's bluegrass," Cope said. "There is an Ozark, rock and jazz influence — there's a very wide mixture."
Bands who will be playing include Not Brothers, The Turnbacks, Cowgirl's Train Set, Carrie Nation & The Speakeasy, Honeysuckle, and T Chicken.
Cope discovered the bands about five or six years ago and said bringing them to Medicine Park has been a great experience. Several of the bands return to perform year after year.
"Primarily, the bands come from the Branson area," Cope said. "A few also come from Arkansas, Missouri and Texas.  One of the bands is from Lubbock."
"V-Dubs in the Park"— a Volkswagen show — is a new event that has been added to the festival this year. It will take place on Saturday and will feature 25 water-cooled and 25 air-cooled Volkswagens.
Cope expects a large crowd throughout the weekend. Although the music is the star of the show, he encourages visitors to attend the event to become acquainted with Medicine Park – to enjoy the scenic beauty and even bring their fishing poles along with them. Cope also plans to introduce some primitive camping areas around town for families to camp while at the festival.
"One thing that we really want to emphasize is that it is a free event," Cope said. "We really want people to come out and enjoy Medicine Park — especially people that have not been before. We know that if they've been once, they're going to want to come back and bring their family and friends."
Tags Featured
You may also like...
Sorry - Comments are closed